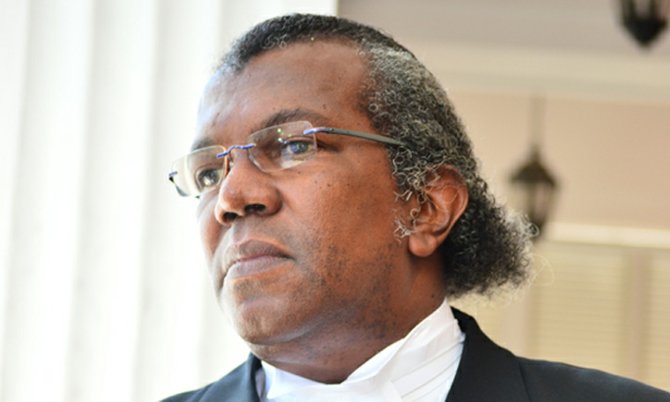 By DENISE MAYCOCK
Tribune Freeport Reporter
dmaycock@tribunemedia.net
ATTORNEY Geoffrey Farquharson was found in contempt of court after repeated loud outbursts as the prosecution addressed members of the jury hearing a double murder and armed robbery trial in Grand Bahama.
Mr Farquharson represents one of three men accused of the crime.
He was found in contempt on Friday. Justice Estelle Gray-Evans advised jurors that she had sought to avoid having to expose them to "unpleasant activities" that transpired between counsel and the court on Friday and told them they are to judge on the facts alone in the case and not to let sympathy or prejudice influence them.
"The facts are in," she said, explaining to jurors that they are to draw their findings on the facts, not behaviour or conduct of the parties involved.
Prosecutor Neil Brathwaite continued closing arguments to jurors on Tuesday. However, as he addressed the jury one last time, the senior prosecutor was repeatedly interrupted and expressed his frustration to the judge indicating that he has never seen and experienced such "unfamiliar tactics" exercised by lawyers for the accused in his long career as a prosecutor.
Paul Belizaire, Devaughn Hall, and Kevin Dames are accused of the shooting deaths of Barry and Sheena Johnson at their residence in Deadman's Reef, and stealing their GMC truck and a set of keys on the evening of September 12, 2015.
The trial opened last October.
Mr Brathwaite told jurors that notwithstanding the long drawn out trial and contentious episodes in court at times, the case is a simple one and that the evidence is clear.
He told them common sense and courage are the two things that should come into play as they go over the evidence presented in court.
Mr Brathwaite explained that the prosecution is relying on evidence of two co-accused Allan Alcime and Virgil Hall (who both accepted plea deals to testify as witnesses for the Crown), the record of interviews, and police statements given to police, a videotape of the shootings, and videotaped inquiries of the accused conducted by police.
He noted that Dames, who gave evidence in the witness box, did not have to say anything but chose to take the stand.
Dames testified that he gave Belizaire, Alcime, Devaughn Hall, and Virgil Hall a ride to Deadman's Reef, but that he did not know what they were going there to do. He also testified that the lead police investigator had assured him that he would not be charged in the case.
Mr Brathwaite said that Dames also claimed in the witness box that he did not know the men very well, but that in a statement to police was able to call names.
The prosecutor said the testimony given by a reverend portraying Dames as a good boy is "nonsense."
He argued that Dames had given those men with guns a ride knowing what they were going to do.
 Mr Brathwaite said that Belizaire through his counsel, Mr Farquharson, claimed police beat him. However, the prosecutor told jurors they saw videos of Belizaire accompanying the police on inquiries and he was seen voluntarily assisting police and telling them his version and pointing out where things had happened.
He said the statement given by Belizaire on inquiries with police corroborated the testimony given by Alcime and Virgil Hall.
The prosecutor stated that the question of Belizaire trying to stop the shootings was questionable because he ran after Mr Johnson had been shot, and did nothing to try stop the shooting of Mrs Johnson.
He then addressed Mr Farquharson's suggestions of sloppy police investigation, saying that the investigation is not about the lead investigator. "It is about who kill Barry and Sheena Johnson and who took their truck and keys," he said.
Mr Brathwaite said that the mention of money by Alcime and Virgil Hall speaks to the motive, and not whether Mr Johnson had any drugs and money.
On the issue of forensic evidence, the prosecutor said that the men wore long-sleeved shirts, pants, gloves, hats, and masks and prepared themselves to carry out the act. Although their lawyers submitted that there was no intention to steal the truck, Mr Brathwaite pointed out that the evidence is that the men stole the truck to get off the scene.
"It was said that no one was supposed to get hurt, but Mr Johnson was hurt, struck, and held at gunpoint. There was an intention to use violence, and that is the evidence," Mr Brathwaite said.
Devaughn Hall, who was fingered in court by co-accused Allan Alcime as the instigator and shooter, chose to remain silent. A prison doctor testified that Hall had sustained several injuries that could have possibly been caused while in police custody.
Carlson Shurland represents Dames and Jethlyn Burrows represents Devaughn Hall. Erica Kemp and Neil Brathwaite are appearing on behalf of the Crown.
Justice Estelle Gray Evans adjourned the trial until Friday when she will give her summation in the case.