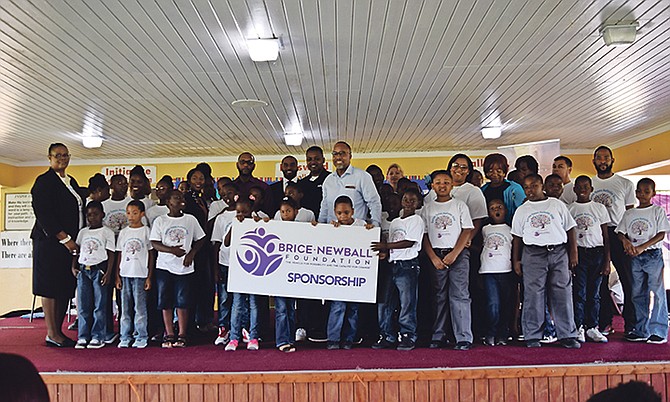 THE Brice-Newball Foundation recently presented the autism centre at Garvin Tynes Primary School with ten Samsung tablets and 15 ringing bells during a special assembly at the school.
Since 2016, the Brice-Newball Foundation has provided support to the autism centre of Garvin Tynes School. This unit provides specialised education and instruction to about 40 children diagnosed with autism.
Garvin Newball and Leander Brice are Co-CEOs of A Sure Win gaming company and the founders of the Brice-Newball Foundation. The foundation is the charitable arm of the gaming company.
"Two years ago, we made a commitment to assist the kids of the Autism Unit at Garvin Tynes Primary School," Mr Newball. "Since then, we have tried to assist the school with as many of its needs as possible.
"This year, the donation of the ten tablets and 15 ringing bells were a priority for them. We know that these items are critical for the development of children no matter their learning capabilities.'
The Centre for Autism was established at Garvin Tynes Primary School in September 1999. It started with one classroom; one trained teacher and one teacher's aide.
The unit has grown over the years and presently there are four classrooms, four trained teachers, six teacher's aides and 42 students.
"The children who are taught and nurtured at the autism unit deserve the same level and access to education as children anywhere else in the Bahamas," Mr Brice said. "The Brice-Newball Foundation is especially proud of the work at this school because it focuses on the needs of children living with autism. Many times children with special needs can be overlooked but we are happy, to not only donate, but help to bring an awareness."
The foundation is also helping to underwrite the cost of shirts for the children of the unit as well as the printing of pamphlets for public distribution to assist in sharing information on autism.