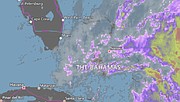 BAD weather will continue in the Central Bahamas through Saturday, the Department of Meteorology said Friday evening.
Beachgoers and mariners are warned to exercise caution.
"An area of disturbed weather associated with an upper level low and a surface trough in the vicinity of the Central Bahamas will continue to produce unsettled weather across portions of the Bahamas and Turks and Caicos as it moves westward tonight through Saturday," forecasters said in a statement.
"Beachgoers and mariners should continue to exercise caution due to high surf and the risk of rip currents at north and east coast beach while boaters in the northwest and central Bahamas should remain in port," the statement continued. "Residents can also expect localised flooding in low-flying and flood prone areas during heavy and prolonged rainfall events."