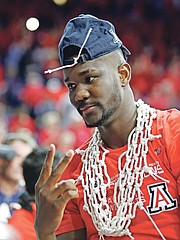 By RENALDO DORSETT
Tribune Sports Reporter
rdorsett@tribunemedia.net
Deandre Ayton has developed into a consensus top overall pick for next month's NBA Draft but the highly touted frontcourt superstar has opted out of an important part of the draft process.
Ayton declined an invitation to participate in the NBA Combine, set for May 16-20 in Chicago, Illinois.
Approximately 70 players were invited to the combine which is an opportunity for invitees to show off their vertical leap, quickness, and all-around basketball skills to NBA franchises.
Despite skipping the combine, Ayton is still likely to participate in team workouts once the NBA Draft Lottery is complete. The Draft lottery takes place Tuesday May 15 at 7:30 aired on ESPN.
Ayton has been listed as the top player on many draft boards, including NBAdraft.net, Sports Illustrated, CBS Sports and others.
His latest accolade was being named the "Karl Malone Power Forward" of the year, ahead of Duke freshman Marvin Bagley III and three other finalists for the award. Ayton was also voted an Associated Press First Team All-American. He was also the First Team All-American from the NABC, USBWA and Sporting News. Ayton averaged 20.1 points and 11.6 rebounds per game while shooting 61.6 per cent from the field.
He was the first player in the history of the Pac-12 Conference to earn Player of the Year, Freshman of the Year and Most Outstanding Player of the conference tournament in the same season. The two-time Pac-12 Player of the Week rewrote numerous pages in the Arizona Basketball record book.
Ayton is already projected to be one of the top three picks in the draft. If he goes with the first pick, he will become just the second Bahamian to be selected number one behind Mychal 'Sweet Bells' Thompson, the first foreign-born player taken in the 1978 NBA Draft by the Portland Trail Blazers.