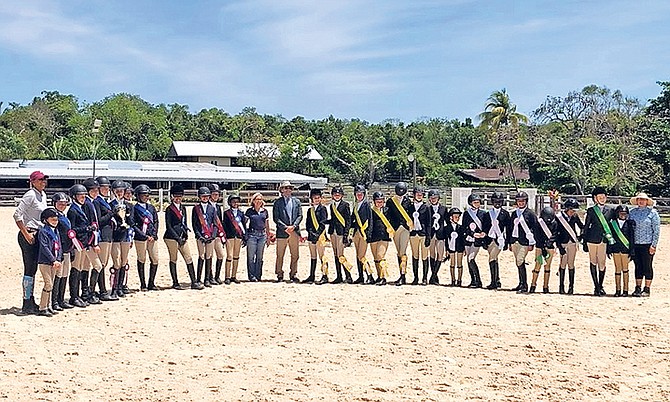 TEAM spirit was in full effect this past weekend as the country's most promising junior horse riders from seven schools across New Providence and Grand Bahama met at the Camperdown Equestrian Centre to compete in the Bahamas Interschool Equestrian League Championship horse show.
Riders represented Queen's College, Lucaya International School, Windsor Preparatory School, Lyford Cay International School, St Andrew's School, Tambearly School, and an Independent team comprised of Summit Academy and homeschooled students, with team members competing in eight classes at varying skill levels. The show judge was Mr Scott Hofstetter, himself the winner of the 1986 ASPCA Maclay Equitation Finals at Madison Square Garden, and a highly sought-after judge who has officiated at major events such as the Washington International Horse Show and the USEF Pony Finals.
On Sunday a strong Queen's College team scored the most points and so won the day's events.
However the overall championship trophy (awarded to the school with the highest cumulative point total from all interschool shows) was hoisted by a cheering Lyford Cay team.
The final results of the Bahamas Interschool Equestrian League Championship were:
1st – Lyford Cay International School; 2nd – Queens College; 3rd – St Andrew's School; 4th – Windsor Preparatory Academy; 5th – Tambearly School; 6th – Independent/Homeschool Team; 7th – Lucaya International School