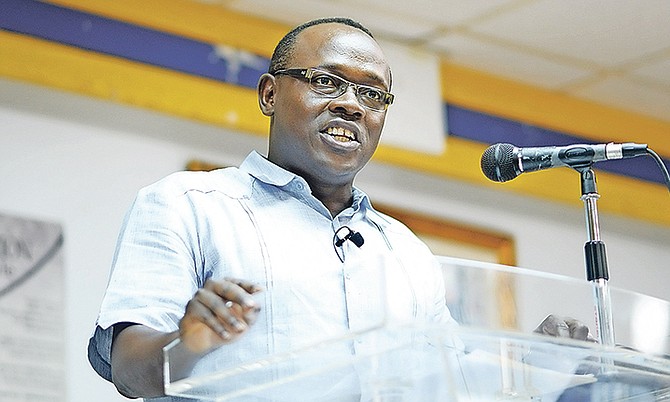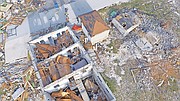 By RICARDO WELLS
Tribune Staff Reporter
rwells@tribunemedia.net
EXUMA and Ragged Island MP Chester Cooper yesterday criticised the Minnis administration for its failure to rebuild the segments of his constituency rendered "unliveable" in the wake of Hurricane Irma last September.
Opening his communication on the Access to Affordable Homes Bill 2018 yesterday, Mr Cooper taunted the government with its failure to deliver on the many promises it had made during tours of the island in the storm's aftermath.
"Mr Speaker, as we debate access to affordable homes, it has been nine months since the people of Ragged Island suffered total devastation during a hurricane and very little has been done for them, even as another hurricane season is upon us," Mr Cooper said in the House of Assembly.
"Nine months since the government made commitments to those people and nine months later, they are still suffering.
"Ragged Island has not nearly been restored and the dreams of a dream city promised by this administration remains a dream.
"Not even so much of a Green Paper or White Paper or position paper or plan to the people of Ragged Island by this government," he said. "I know you may tire of hearing it, but I will never tire of advocating for the people of Ragged Island."
According to Mr Cooper, Ragged Island residents have benefitted primarily from private aid and donations – this despite the government's insistence the island would not only be restored, but act as the country's model for green, environmentally friendly living.
Days after Hurricane Irma ravaged the small community, Prime Minister Dr Hubert Minnis said it was the government's intention to transform Ragged Island into the first fully "green" island in the region.
The prime minister explained renewable energy and smart technology from solar energy and sustainable water purification systems will be utilised for this effort with the help of residents and descendants of the island.
To further support these efforts, Dr Minnis said the government will seek not only the assistance of Bahamians, but look to international counterparts.
At the time, he did not reveal a cost to be associated with this undertaking, adding that Finance Minister  Peter Turnquest would offer details at a later date.
In addition to his criticism of the pace of Ragged Island's rebuild, Mr Cooper said yesterday:
"Had this government simply gone to Ragged Island and said it would rebuild the administration building and restore the school and the nursery, and the dock, and the clinic and the police station; with maybe some improvements and committed to fixing the Salt Pond and getting the fishermen back to work; then we wouldn't be having the conversation today.
"But that wasn't good enough, Mr Speaker. The prime minister had to go and promise a green island. And so, while we wait for this green island to materialise, almost a year later, a hurricane season again approaches," Mr Cooper added.
"No school, no clinic, no nurse, no doctor, no government building, no shelter, no reliable water while Ragged Island waits for relief or this magical green island."
Mr Cooper implored the Minnis administration to return to Ragged Island "a sense of normalcy and basic amenities that everyone else in the Bahamas enjoys."
Mr Cooper also called for an accounting of all donations made to the National Emergency Management Agency on behalf of the people of Ragged Island.
Mr Cooper also thanked all the private charities that have assisted the residents of Ragged Island post-Irma, primarily HeadKnowles and its founders Gina Knowles and Lia Head-Rigby.