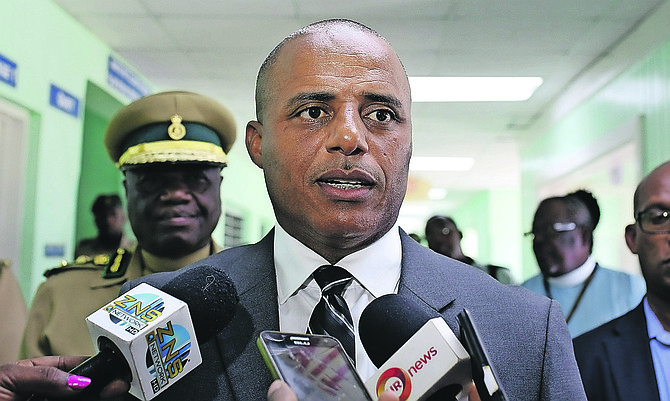 CYBER crime in the Bahamas showed an 80 percent increase, with 171 incidents reported in 2017 up from the 95 recorded in 2016.
Speaking at the Bahamas Chamber of Commerce and Employers Confederation Cyber Security Forum, National Security Minister Marvin Dames said the government views cyber crime as a serious threat to national security, economic development and the way of life.
"Henceforth, we will strategically collaborate with our national, regional and global partners to promote cyber security," he said during the event at the Island House earlier this week. "I would also like to take this opportunity to encourage business owners and the general public to safeguard your data, money and identities from cyber criminals, as much as possible.
"We will use every tool at our disposal to secure our nation's cyber security and ensure that we are safer today than we were yesterday."
He also said: "With a population of less than 400,000 persons, a study conducted by International Telecommunication Union (ITU) in 2016 revealed that approximately 333,143 or 84 percent of the total population accessed the internet at home or via other device types and connections.
"Last year approximately 171 incidences of cyber crimes were reported in The Bahamas, compared to 95 in 2016.
"The cyber activity reflected an 80 percent increase and was inclusive of the crimes such as credit card fraud, identity theft, ransom ware, phishing attacks and data loss, all of which are expected to become more common in the future."
Currently there are separate pieces of legislation that govern cyber security, the minister said.
"The Computer Misuse Act (CMA) which was instituted in 2003 -- this Act provides comprehensive criminalisation of and procedural law for cyber criminal activity in the country," he said. "Parliament also signed the Data Protection Act (2003) and the Electronic Communication & Transactions Act (2006)."
Both laws, Minister Dames said safeguards the rights of citizens online and establishes norms and regulations for e-commerce and other online services.
However, he said, much more work remains and the government is committed to providing the necessary safety and intelligence that will make all safer tomorrow than they were at that time