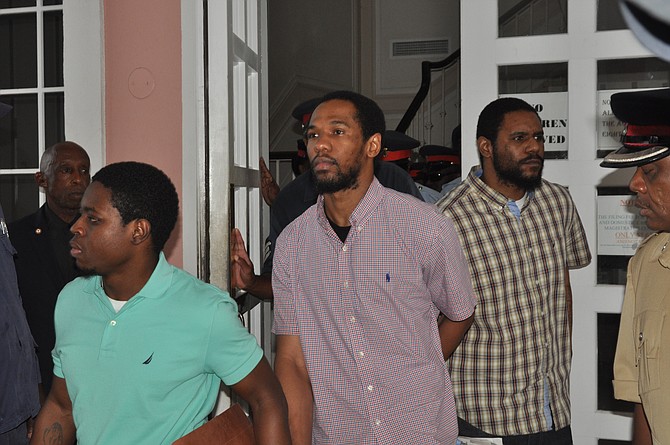 By DENISE MAYCOCK
Tribune Freeport Reporter
dmaycock@tribunemedia.net
AFTER six hours of deliberation, a Supreme Court jury unanimously found Devaughn "Short Man" Hall guilty of the murders and armed robbery of a husband and wife who were brutally shot to death at their Deadman's Reef home three years ago.
However, the eight woman, four man jury was hung and could not reach a verdict on the two counts of murder against Paul Belizaire, but instead found him guilty of armed robbery by a vote of 11-1.
They also failed to reach verdicts on all three counts in relation to Kevin Dames, who according to court evidence, gave the men a ride to Deadman's Reef on the evening of September 12, 2015, when Barry and Sheena Johnson were shot by four masked armed men and robbed of their GMC truck and a set of keys.
The jury retired around 12.20pm after Justice Estelle Evans completed her summation. Shortly after 7pm, the jury returned and delivered the verdicts before a packed courtroom under heavy police guard.
In the case of Hall, the jury brought back a verdict of 12-0 guilty on counts one and two in relation to the murders of Barry Johnson and Sheena Johnson, respectively and 12-0 guilty on the armed robbery count.
In the case of Belizaire, they were hung by a vote of 10-2 guilty on count one in relation to the murder of Mr Johnson, and 9-3 guilty on count two in relation to the murder of Mrs Johnson.
They came back with hung verdicts in relation to Dames, with a split vote of 6-6 on the two murder counts, and 7-5 guilty on the armed robbery, which is not a true verdict.
Justice Estelle Gray Evans convicted Hall of the murders and armed robbery, and set sentencing for July 5 when probation and psychiatric reports would be completed and presented before sentence is passed.
Belizaire will appear back in court on May 31 for sentencing on the armed robbery conviction. His lawyer Geoffrey Farquharson has indicated his intention to file an application on behalf of his client in the Court of the Appeal.
Attorney Carlson Shurland asked Justice Evans if the court could allow him to make a bail application for his client Dames, who had been incarcerated for two years and nine months.
"He is on the edge of his constitutional rights being breached," he explained.
Justice Evans said she was unable to accommodate the application as she would be out of court on Friday, but was prepared to hear the application on May 31.
Shirley Stubbs, the mother of Sheena Johnson, was pleased with the outcome, and believes that Hall should get the death penalty.
"I am well pleased, justice is served," she said surrounded by family members. "I thank the jury, I know my daughter will rest in peace, she and her husband."
Mrs Johnson was a teacher at the Eight Mile Rock High School and had just been promoted before her death. "She was very intelligent… and was taking a law course because she wanted to be a lawyer," her mother said.
Mrs Stubbs, who sat in the court for the past eight months, never missing a day of the trial, said her daughter was a Christian woman. She said she was disturbed to learn that she had been shot multiple times and was on her knees praying before she was shot.
"I know God answered my prayers. I know her death was not going to be in vain," she said, holding back tears. "Oh God, I am overwhelmed. I was disturbed to know she died like that. I hope that Mr Hall will get some treatment for him because I know he had to be a sick person to do an act like that."
"Yes," she replied when asked if she thinks he deserves the death penalty.
Jenella Johnson, the sister of Barry Johnson, who also testified during the trial, said she is happy that her brother has finally got justice.