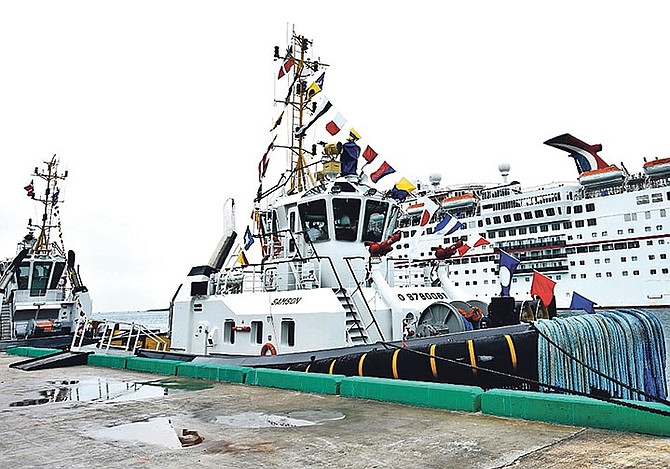 By RASHAD ROLLE
Tribune Staff Reporter
rrolle@tribunemedia.net
PRIME Minister Dr Hubert Minnis christened two tug boats yesterday that cost $15m and are intended to ensure the safety of the Nassau Harbour and Clifton Pier.
The vessels, named Tug Samson and Tug Rose, "will be operated by Tug Services Limited, a 100 percent Bahamian owned and operated company," Dr Minnis said.
"The Government of The Bahamas entered into a 15-year contractual lease arrangement with Tug Services Limited, beginning April 1, 2018," he added.
"These are the kinds of public/private partnerships which help to provide certain necessary services. The agreement calls for Tug Services Ltd. to provide two 50-ton bollard pull, Azimuth Stern Drive, tug boats, on a daily time charter. This includes: management services, crew, firefighting, oil spill recovery, salvage capabilities and vessel maintenance for tug services at Nassau Harbour and Clifton Pier. With its world class equipment and experienced Bahamian staff, Tug Services Limited has the task of providing tug boat services 24 hours per day, 365 days per year for the next 15 years to ensure the safety and enhance the competitiveness of Nassau Harbour and Clifton Pier. This includes reliable service during poor weather and in emergencies."
Transport and Local Government Minister Frankie Campbell said though the 15-year contract will cost Bahamians $4m per year, the country will make an annual return on that investment, although it is not clear how that will happen.
"The government of the Bahamas has permitted to pay Tug Services LTD in the area of $4m per year," he said, "however we will raise almost twice that much so at the end of the day the Bahamas government will recoup the necessary funds to pay that $4m and probably get a profit of nearly $3m. When you consider that without the headache of crew, ship maintenance, etc, its a win-win situation for us."
Mr Campbell said the government presently owns two tug boats that it plans to sell.
"It wouldn't make sense for us to be maintaining two ships while we try leasing two ships," he said.
Dr Minnis said the tug vessels are "customised pull tugboats".
"Both contain lifejackets, immersion suits, Search and Rescue Transponder (SART), Emergency position-indicating radiobeacon station (EPIRB), life rafts, pyrotechnics, portable fire extinguishers and lifebuoys," he said.
Nonetheless, the government's plan to introduce a "mandatory tug boat fee" has been met with opposition from commercial shippers and cruise lines.
Michelle Paige, the Florida-Caribbean Cruise Association's (FCCA) president, said the industry was "fundamentally opposed" to paying for the service in Nassau Harbour.
"The industry supports paying for services that it needs," she said. "However, in this case, our member lines tell me that tug service requests are not needed in the Port of Nassau, and that the existing fleet of tugs was adequate for the exceptional use by the industry."