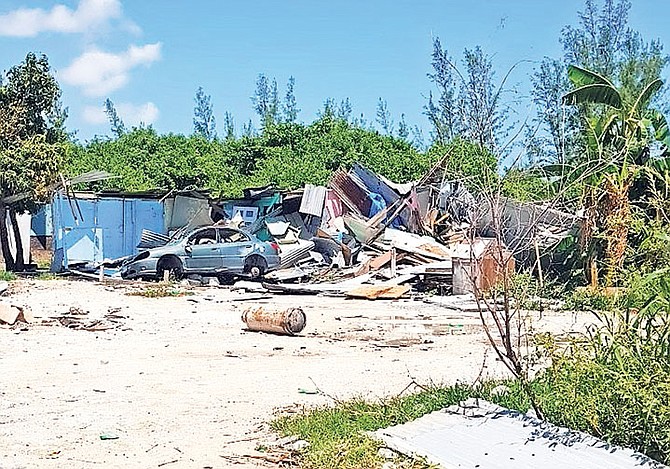 By KHRISNA RUSSELL
Deputy Chief Reporter
krussell@tribunemedia.net
RIGHTS Bahamas said it now has evidence to take "constitutional action" against the government over its July 31, 2018, deadline mandating the eviction of all shanty town residents, arguing the decision was discriminatory.
Stephanie St Fleur, president of the activist group, branded the move "ethnic cleansing" saying it contravened certain articles of the Bahamas Constitution.
On Sunday, Ms St Fleur said she was surprised by the news of a deadline; however, Haitian Pastors League President Dr Jean Paul Charles told The Tribune yesterday he had no issues with the deadline because in his view it gives sufficient time for shanty town dwellers to find alternative housing.
He said he had known of the government's date to vacate since February.
The deadline was first made public in the Tribune's report of an interview with Labour Minister Dion Foulkes, chairman of the government-appointed shanty town committee, yesterday.
Dr Charles said the only challenge was some families may find it difficult to financially afford what is required to rent accommodations. This, he said, was raised with government officials. But the Minnis administration has said they are not willing to assist in this regard, Dr Charles said.
Activist Louby Georges took exception to this, saying he doubted the league asked the right questions of the government or effectively communicated the content of meetings with the government to the wider Haitian community, especially those living in the shanty towns.
He said the pastors seem to be more "yes men" than a body looking after the well being of the minority group. Mr Georges told The Tribune he doubted the wider Haitian community knew of the deadline, which is a little more than two months away.
In a statement, Ms St Fleur said: "This government seems more concerned about its legacy than actually making it 'the poor people's time'.
"'Bulldoze the shanty towns' may make a good headline, but the actual affect is leaving many already living below poverty, including hundreds of children, homeless.
"Rights Bahamas now has an evidential basis upon which to bring a constitutional action against the government for discrimination against the Haitian minority generally, it is apparent that they are simply obsessed with "eradicating" persons of Haitian descent in their "shantytown" communities.
"This is ethnic cleansing and is prohibited by articles 15 and 26 of the constitution."
She was referring to the portion of the Constitution that speaks to protecting the fundamental rights and freedoms of the individual specifically the protection of the privacy of the home and property. Article 26 directly prohibits discrimination.
"Many Over-the-Hill areas could qualify as shanty towns, in terms of construction, facilities and relevant permissions. Thus, there should be no distinction between the two human habitats," she also said.
"Equal and just treatment should be afforded to all in accordance with basic human dignity. Instead of tearing down, bulldozing, eradicating, why not build up develop? Why not give hope and create opportunity?
"Shanty towns have Haitian, Haitian-Bahamian and Bahamian residents, all of whom are ethnically challenged, living and trying to survive the high cost of living of our country. They are victims, not offenders and deserve the support of the community. Nor is there any legal basis for taking this action. All residents of shanty towns have a right to challenge any decisions of the government in court and no action can be taken until their legal options are exhausted."
For his part, Mr Georges posed several questions of the timeline.
He said: "I want to know if that applies to all shantytowns or just particular ones? Which ones will be first and how do you pick which ones have to be vacated by this July?"
Labour Minister Dion Foulkes announced the government's planned timeline and further revealed two shanty towns - one in New Providence off Hamster Road, Faith Avenue and another just outside of George Town Exuma – were recently torn down.
He also said formal notice will be given to those living in structures not up to building code this week.
Those demolitions were done in tandem with a census conducted in 11 shanty towns across the capital.
The survey began April 15, and a complete report on the census is expected today, Mr Foulkes said.