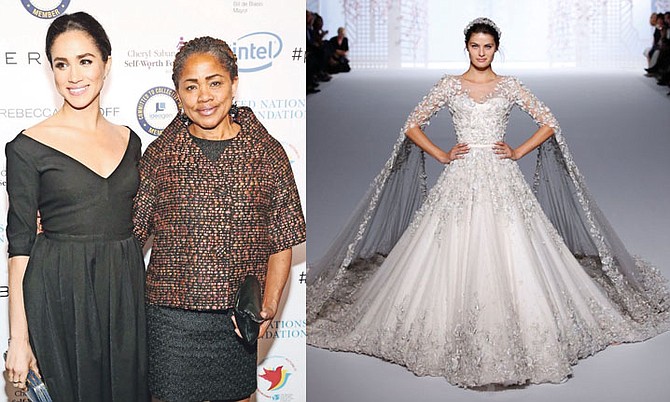 By CARA HUNT
cbrennen@tribunemedia.net
We haven't even seen it yet, but it will most likely be the dress of the year.
The gown which Meghan Markle will wear at her wedding to Prince Harry this Saturday has been one of the fashion industry's most closely guarded secrets. But that hasn't stopped women around the world, including here in the Bahamas, wondering what it will look like. Will there be lace? Will there be silk? Will it have a long train or ball gown skirt? Speculation has reached fever pitch. Well, in just a few days we will have all our questions answered.
Kensington Palace has already stated that no details of the dress will be revealed until Meghan emerges from her car at St George's Chapel at Windsor Castle on her wedding day. But royal watchers are convinced that the former "Suits" star will walk down the aisle in a couture gown by Australian designers Ralph & Russo, the same fashion house which provided the beaded and sheer evening gown she wore for her official engagement photos.
Tamara Ralph and Michael Russo are ten-to-one favourites to be the designers, according to the Ladbrokes betting agency. Their odds went up after Prince Harry – who is reportedly purchasing his bride's gown for around $180,000 – was spotted coming out of the Ralph & Russo's London office. It was also revealed that rolls of ivory silk lying on a wooden table were spotted at the London premises of Joel & Son's Fabrics with the Ralph and Russo label on it. The company holds a royal warrant as supplier to her Majesty the Queen.
Ralph & Russo are certainly up to the task of dressing a royal bride. They are obviously a favourite of Meghan's and their designs are known for intricate details, including hand-embroidery, beading, use of feathers, 3D florals, lace and crystals. The bridal showstopper in their 2016 Spring show took 6,000 hours and 50 hours to create. It required a team of five women to help the model turn the dress on the runway.
Bahamian wedding planner and owner of the Five Seasons Bridal boutique Tennille Darville said she, like all others in her industry, is very interested to finally see the dress.
"I, too, am waiting with bated breath to see what the beautiful Meghan Markle will wear on her wedding day," she. Tennille is sure some future Bahamian brides will be influenced by Meghan's selection.
In any event, whether she chooses to wear a "blinged-out" gown or a more classic and simple design, Meghan's dress is sure to become just as iconic as the 80's creation the late Princess Diana wore or the lace long-sleeve Alexander McQueen design worn by Kate Middleton. Both of those dresses continue to set trends in bridal wear up until today.
And while the design of Meghan's dress remains a mystery there are a few things we can assume: The dress will be be modest as befits a royal. She probably won't wear strapless of spaghetti straps inside the church although she may choose a more revealing look for the private evening reception.
The dress will be expensive – Ralph & Russo designs begin at $50,000, and add to the security and personal treatment involved in its creation, that price will skyrocket.
Of course, Meghan's dress will be very different from Kate's, as she will not want to draw any comparison between the two gowns. So it's likely she will steer clear of lace sleeves and it is believed that she will choose a dress that won't upstage the one worn by Kate at her wedding to Prince William.
She will likely wear at least some bling. The Queen may well offer her new granddaughter-in- law jewels from her private collection as she has with other royal brides, or Harry may choose to gift his bride with a sparkly wedding present. And there is still the possibility she could wear the Spencer tiara.
We know there will be no maid of honour to steal the show, but there will be an array of flower girls and page boys. While this means we won't see the hype that resulted from the shapely cowl-necked dress worn by Pippa Middleton in 2011, prepare for cuteness overload as Prince George and Princess Charlotte and the rest of the children in the wedding make their entrance.
Meghan's mother, Doria Ragland, will also have a special role on the day, accompanying her daughter to St George's Chapel in the same car. Meghan's father, Thomas Markle Sr, who was expected to walk her down the aisle, may no longer be attending the royal wedding, it was reported yesterday.
According to claims by the celebrity website TMZ, he has "now decided not to go because he doesn't want to embarrass the royal family or his daughter". This comes after he allegedly cooperated with Los Angeles-based paparazzi to stage pictures of himself preparing for the wedding day.