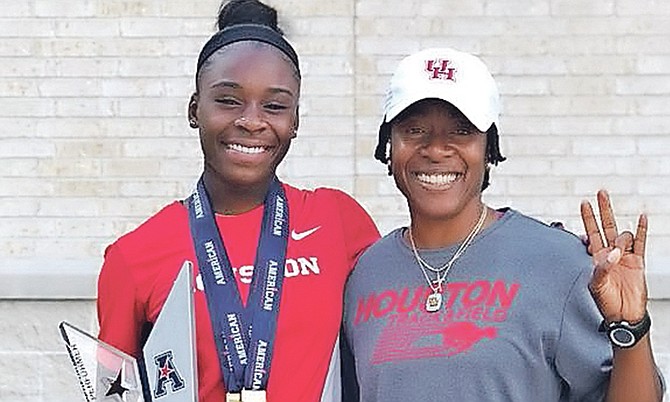 By BRENT STUBBS
Senior Sports Reporter
bstubbs@tribunemedia.net
AFTER a rough transition in college life in her freshman year, Grand Bahamian Brianne Bethel is now making great strides as a member of the Cougars women's track team at the University of Houston.
And based on her progress, Bahamian assistant coach Debbie Ferguson-McKenzie said Bethel could become one of the greatest sprinters that the country has ever seen. In the meantime, they wait for the other half of the twin combo, Brittni, who is recuperating from surgery, to begin her campaign.
That's high marks coming from Ferguson-McKenzie, who has set the bar as the most accomplished sprinter coming out of the University of Georgia and excelling on the international scene as an Olympian.
"Based on what she did last year coming in as a freshman, not knowing how to run indoors, she was a little disappointed in her performance," Ferguson-McKenzie said.
"But I told her that she just needs to work on her technique and with time, she will be able to turn it around. This year, coming back, she made the transition and is now performing like we all knew she is capable of doing."
Now in her sophomore year, Bethel improved her personal bests of 11.40 seconds in the 100 metres and 23.47 in the 200m from her freshman year to 11.20 and 22.74 over the weekend as she pulled off the sprint double at the American Athletic Conference Championships.
In addition to helping the Cougars win both the women's 4 x 100 and 4 x 400m relays, Bethel was named the most outstanding athlete at the meet in Cincinnati, Ohio.
"In my opinion, I felt like I worked very hard for what I did," Bethel said. "I'm very happy for my performance because I worked very hard. I worked very hard.
"I'm blessed. I'm very blessed to be here and competing for Houston."
Working with someone she considers to be a perfectionist, Bethel said she can't help but perform at her best. "It's very tough because we are dealing with a perfectionist here. If it ain't perfect, it's wrong," said Bethel of Ferguson-McKenzie.
"But I enjoy working with my coach. She really brings out the best in me."
Considered to be a hard worker who loves the sport, listens and and deserves everything that she's gotten so far, Ferguson-McKenzie admits that the sky is definitely the limit for Bethel.
"We're happy with her progress. She did some amazing stuff in winning the MVP award at the meet," Ferguson-McKenzie pointed out. "I'm very ecstatic, very ecstatic.
"We're taking it one meet at a time, but as far as the way forward, we're hoping that she can go to regionals and then make NCAAs. And if she makes NCAAs, she will go there and do the best that she can.'"
Bethel and the Cougars will be competing in the NCAA West Prelims, known as the regional, from May 23-25 in Sacramento, California. The meet will serve as the qualifier for the NCAA Outdoor Championships, set for June 6-8 in Eugene, Oregon.
"Everybody want to win and why not? That should be her goal, but it may not come this year or it may come this year, but we want her to take it one year at a time," Ferguson-McKenzie stressed.
"She's a sophomore, but she's never been to the NCAAs, so our goal right now is to get her to NCAAs so that she can go there and get a chance to see what it's all about. So we just want her to have fun and continue to work hard."
Bethel, 19, said she's already accomplished the goal she set for herself for this year and that was to produce the times she did. Whatever happens the rest of the season will be icing on her cake.
"I have to set new goals and try to better myself from here on," Bethel said. "This costing me to stay focus on what I came here for."
Having set the pace for athletes like Bethel to follow, Ferguson-McKenzie said her aim is to make the next generation of athletes like Bethel to be better than she was.
"My goal is to ensure that she gets better than I did," proclaimed Ferguson-McKenzie, who has produced times of 10.91 in the century and a national record of 22.19 in the half-lap race in a career that span more than two decades with two many accolades to list from Carifta to the Olympic Games.
"Even though as a coach now, I've been down that road and I know it is like to have had rough days and good days. But it's an amazing opportunity to be able to assist a talented young lady like Brianne and I trust God that I can continue to do all that I can to assist all my athletes."
While Brianne is coming into her own, Ferguson-McKenzie said they're still keeping their fingers crossed that her twin, Brittni will recuperate from the knee surgery that has prevented her from joining Brianne in competition.
"She hasn't been in a position where she can train to compete as yet," Ferguson-McKenzie pointed out. "Everything right now is geared to wards her recovery.
"We had some issues with her health, but at the same time, we don't want to rush her back too quickly and then she's not quite ready to go. So we are taking it one day at a time and being patient with her."
Bethel said her sister can't wait to get back on the track.
"She's doing her school work, which is the most important part," she lamented. "But she will be back on the track very soon. We ain't finish yet. We will be back next year."
The 5-feet, 7-inches twins, who both run the sprints, are the daughters of Claudette and Brian Bethel.