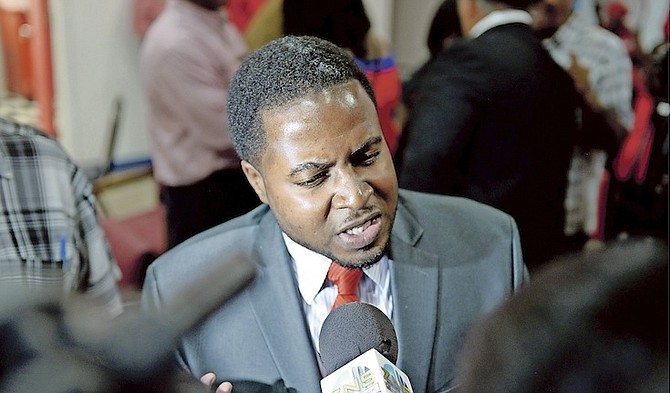 By NEIL HARTNELL
Tribune Business Editor
nhartnell@tribunemedia.net
Long Island's $5m water deal went to the only bidder that "substantially" met the Water & Sewerage Corporation's terms, its chairman saying yesterday: "I don't believe in hanky panky."
Adrian Gibson told Tribune Business there were sound reasons why the two-phase infrastructure contract was awarded to BHM Company (Bahamas Hot Mix), rather than a Long Island construction firm that submitted the lowest bid.
Rejecting claims by former PLP chairman, Bradley Roberts, that the Corporation would receive poor "value for money" from an award allegedly influenced by "cronyism", Mr Gibson said price was not the only factor that determined the outcome.
Construction expertise, especially on similar water infrastructure, and the bidder's financial strength also weighed heavily in a process that had to comply with Caribbean Development Bank (CDB) requirements given that the multilateral institution is providing the financing.
While confirming Mr Roberts' claim that Rowdy Boys, the Long Island-based construction firm, submitted the lowest bid of $2.66m, Mr Gibson said it would have been "too risky" to award it the contract.
This, he explained, was because Rowdy Boys' bid was less than 50 per cent of the valuation placed on the project by the Corporation's external engineering consultants, who estimated it would cost $5.762 million.
Information provided to Tribune Business showed that Rowdy Boys' bid was only 68 per cent compliant with the tender's requirements, containing eight so-called deficiencies, whereas BHM Company's offer was 96 per cent compliant.
Mr Gibson also revealed that two of the 11 bids, those from Island Site Development (ISD) and Top Notch Builders, were immediately disqualified because of potential 'conflicts of interest'.
He and the Corporation, in a statement, said the two contractors' submissions were accompanied by "professional references for individuals" working for the external engineering firm overseeing the Long Island project.
This resulted in the engineering firm's "termination without prejudice", with the Corporation planning to meet the two contractors involved to "discuss the matter further".
"The procurement and tendering process has to be transparent, 100 per cent transparent," Mr Gibson told Tribune Business. "It's keeping everything above board, and I'm the type of person that doesn't believe in hanky panky.
"I don't subscribe to any corrupt practices. If it existed before my appointment, I'm certainly weeding it out and putting in measures to ensure everyone that submits a bid gets a fair shake."
He added that bidders on any Corporation, Government or private contract had to understand that they would both win and lose out on different tenders, and said the two contractors' disqualifications highlighted the need for 'code of conduct' requirements for Water & Sewerage vendors.
"Just the potential for a conflict of interest, and this is in accordance with CDB rules, caused that result," Mr Gibson said. "It's simply the potential for that to happen triggered the engineering consultant's removal and two bids to be disqualified.
"We have a vendor due diligence form, and a form that speaks to standards of conduct for vendors. Vendors must be compliant with the Corporation's standards for how we conduct business. These are all elements, facets of the new business model we're putting in place.
"The idea is to create an environment of fairness, transparency and competitiveness. We're anti-corruption, anti-bribery."
Mr Gibson hit back after Mr Roberts, a former Water & Sewerage chairman, implied in a statement issued on Sunday that the contract award was influenced by "cronyism" because Brent Symonette and his family are shareholders in BHM Company.
Mr Roberts has a long history of targeting the Cabinet minister over this link, and Sunday's statement was no exception. He attacked the contract award on the basis that BHM Company's offer was 139 per cent, or $3.14 million more, than the bid submitted by Rowdy Boys.
"As the [former] minister with responsibility for public works and the Water and Sewerage (WSC), I engaged the professional services of Rowdy Boys," Mr Roberts said. "Therefore, I am well aware of the quality of their work nationwide.
"The mobilisation cost of New Providence-based companies such as BHM places them at a distinct disadvantage, and BHM's bid price clearly confirms this. Why was the contract not awarded to a local company (Rowdy Boys) with many years of delivering quality work around the Bahamas, and the prospect of saving the cash-strapped Water and Sewerage Corporation over $3 million in the process.
"This contract award is one of the latest decisions of this government to fly in the face of what is now the empty campaign rhetoric of Dr Minnis and the FNM about eliminating public waste, becoming more fiscally responsible and being better stewards of the public purse."
Information obtained by Tribune Business suggests Mr Roberts' figures are slightly off. While Rowdy Boys' bid was $2.266 million, BHM Company's 'unadjusted' bid was even higher than allowed for by the former PLP chairman, coming in at $5.363 million.
This, though, was still below the $5.762 million project 'costing' provided by the Corporation's engineers. Mr Gibson yesterday said other bids were also close to this price, with Bakerwick Construction submitting a $5.726 million offer and Top Notch, one of those disqualified, coming in at $5.861 million.
With such a huge variance between Rowdy Boys' price and the evaluation by its own consultants, Mr Gibson said it was simply too risky to hand the contract to the Long Island contractor.
"For good project and risk management, you're injecting a huge element of risk as that's more than 50 per cent below the professional engineers' assessment of what a reasonable and experienced contractor will be able to do it for," the Corporation's former chairman said of the rationale for rejecting Rowdy Boys.
He emphasised that the Long Island contract "is not just about price", pointing out that no other contractor came close to matching BHM Company on compliance with the tender's requirements - including financial strength and construction expertise.
"All bidders with the exception of BHM Company were substantially unresponsive," the Corporation said in a statement. "Most of the bidders failed the financial requirements by submitting unaudited financial documentation. Several bidders did not utilise the forms that were provided with the tender document."
Mr Gibson said that out of the 11 bids received, five were priced higher than BHM Company's winning submission. He added that the offers were all evaluated by an independent Jamaican engineering firm, which had no connection to any of the bidders or their principals.
And, with the CDB financing the project, strict qualifying and transparency rules were applied to the process. "It's a matter of bringing local contractors into the new century," Mr Gibson told Tribune Business.
"It's not getting some documents, putting information in them and focusing on price. We're past that stage. You must demonstrate you have the financial strength expertise. This is a design and build contract."