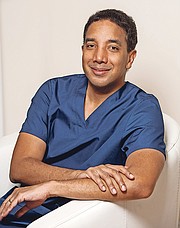 By MORGAN ADDERLEY
Tribune Staff Reporter
madderley@tribunemedia.net
THIS summer, Bahamian urologist Dr Greggory Pinto will carry out a revolutionary curative prostate cancer treatment he believes will "revolutionise" the way this illness is treated in the Bahamas.
In an interview with The Tribune yesterday, Dr Pinto said the treatment - brachytherapy - involves groundbreaking surgery which offers men who contract this form of cancer a far better chance of a normal life.
Dr Pinto explained brachytherapy works through the use of radioactive seeds. "Without a single cut, you place radioactive seeds into the prostate," he said.
"It only kills the prostate cancer cells, the normal prostate cells are left unharmed. You keep your prostate gland intact, and you are cured for prostate cancer."
Urologists all over the world prefer this procedure because it attains the "trifecta", Dr Pinto said.
Brachytherapy cures cancer, patients have urinary control without leakage, and the risk for erectile dysfunction is extremely low (between 8 and 10 per cent).
"You can have your prostate cancer cured in 45 minutes to an hour as an outpatient, go back to your regular routine without any painkillers, the very next day go back to work."
Dr Pinto will perform the procedure in six weeks, in partnership with Dr Charles Diggiss.
Dr Pinto credits Dr Diggiss with being like a "mentor" to him and supporting him in "all of these innovations".
In December, Dr Pinto conducted the first artificial urethral sphincter surgery in The Bahamas at Doctor's Hospital. Last Saturday, he repeated the operation.
Dr Pinto described the importance of this surgery for those with urinary incontinence.
"Many patients who undergo curative prostate cancer treatment, whether it's removal of the entire prostate or if its radiation to kill the prostate cancer cells, they have a damage [to] their sphincter," he said.
"[This] is the muscle that allows them to control their urine when they have that urge to pee."
"So unfortunately these patients are either…on diapers, which they have to change many times a day because it becomes soaking wet, or they have to be on the catheter, which is a discomforting feeling."
"Continuously they have to wear a bag strapped to their leg. They have to continuously empty the bag. So it affects their whole outlook on life."
"The bladder is controlling them; they're no longer controlling the bladder. And it affects their happiness."
An artificial sphincter changes this.
"An artificial sphincter is a device that's within the body that no one will see, there's no discomfort."
"We put an activator in the person's scrotum at the level of the skin. And all they [have] to do is when they're at the toilet to urinate, they press the button, it deactivates the cuff on their…urethra, and allows them to urinate. And 60 seconds later it automatically re-inflates so that they have control again.
"So it's a button that all they do is press. It's easily felt at the skin in the scrotum, they press the button when they're at the toilet."
"It deactivates the cuff that's preventing any urine from running out. The cuff relaxes and it allows the urine to come out and sixty seconds later it reactivates and allows them to be continent. So no more bladder leak."
"So they're free of the diapers, they're free of the pads. They can go swimming again; they can be intimate with their wife again."
"They don't have to worry about being socially awkward because they smell like urine any more. It gives them back control of their life and their confidence."
The patient Dr Pinto treated in December is a prostate cancer survivor who was treated via radiation.
This procedure scarred his sphincter and made it "non-functioning". For 15 years he was reliant on adult diapers and catheters, until he received the artificial sphincter.
Dr Pinto added that the device does not have to be replaced.
The patient Dr Pinto treated on Saturday was cured of his prostate cancer via surgery. This occurred last May, and damaged the patient's sphincter in the process.
"[The artificial sphincter] is going to give him control of his life again," Dr Pinto said.
The surgery takes about ninety minutes to two hours and the patient "goes home the very next day".
Dr Pinto also offers a variety of treatments for women and children suffering from urological ailments. Procedures such as bladder Botox can be used to treat urinary incontinence in women, and he also assists children and teenagers who are chronic bedwetters.
Dr Pinto was graduated from Queen's College High School in 1989, before attaining an MBBS from the University of the West Indies, Mona campus. He is a surgical specialist Fellow of Urethroplasty and Urological Reconstruction Surgery under the tutelage of the world-renowned surgical urologist Professor Sanjay Kulkarni.