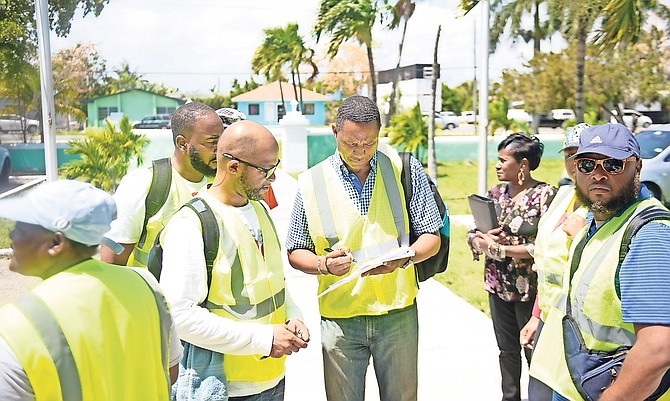 By AVA TURNQUEST
Tribune Chief Reporter
aturnquest@tribunemedia.net
AN "OVERWHELMING" 70 percent of shanty town residents surveyed in New Providence have a legal right to reside in the country, according to the preliminary findings of a recent government survey.
Twenty-three percent of interviewees did not provide information on their legal status, and only six percent of residents that did were undocumented.
The largest grouping, 32 percent, held work permits, and 21 percent of interviewees had permanent residency, survey findings revealed.
Bahamian residents stood at 15 percent, and three percent of interviewees had a spousal permit.
The survey conducted by the Shanty Town Action Task Force (SATF) assessed 1,410 residents from the 428 households, and revealed most are long-term residents aged 40 or older with an average of three persons per household and total weekly incomes of less than $400.
While the assessment was intended to survey the head of households, convenience sampling methodology allowed for any responsible adult to be interviewed.
It furthered the predominately male interviewees, some 38 percent, could be indicative of other social, economic, and employment factors given that assessments were conducting during the day.
Twenty-six per cent of interviewees were identified as women, while 36 percent were categorized as unknown.
The largest number of households, 44 per cent, was located in the Carmichael constituency - a figure the report noted was consisted with the 2013 report from the Department of Environmental Health Services.
Two-hundred households had electricity, and of those residents, 35 percent had an electricity supply from BPL while others predominantly used electricity generators. Thirty percent (132) of households have indoor flushed toilet facilities, but only 96 households had indoor running water.
Enumerators recorded 536 minors (aged 18 and under) just about evenly split by sex, with 61 percent attending school.
The report prepared by Dr Cherita Moxey from the Ministry of Health.
The survey was conducted in ten shanty towns over a four week period from Elizabeth, Carmichael (Garden Hills), and Golden Isles constituencies, and with the help of 60 enumerators from various governmental agencies.
Those shanty towns were located on: Montegomery Avenue, 115 residents; Allen Drive; 28 residents; Bellot Road; 10; Golden Gates Road, 291 residents ; Lazaretto Road, 56 residents; Cowpen Road (West), 165 residents; Bacardi Road East, 39 residents, and West, 96 residents; and Lumumba Lane, 160 residents. The report also included 27 residents who participated but were not categorized by location.
Less than five percent of residents surveyed had a disability, with the largest disability grouping of 40 people being sight-related.
A building assessment report was also conducted by the Ministry of Works, and the findings of 19 inspectors over a three week period are expected to be made public next week.