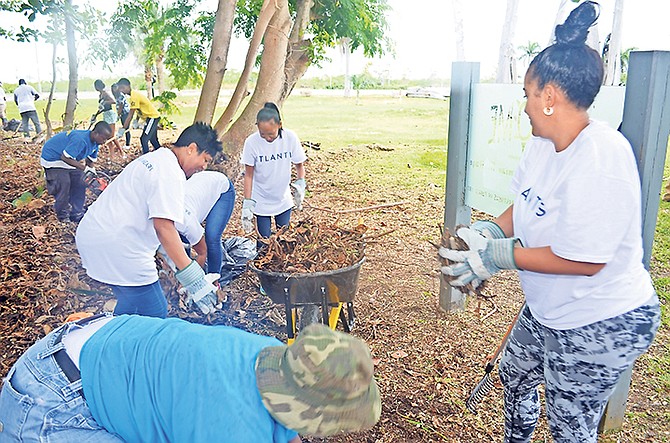 SCORES of 'Atlanteans' armed with rakes, shovels and wheelbarrows, braved the rainy weather to help clean up and refurbish the Sacred Space at Blake Road.
Entitled "Welcome, " the space was originally created in 2007 when Bahamian artist and sculptor Antonius Roberts teamed up with Tyrone Ferguson, another artist who specialises in metal art.
It serves as an expression of Bahamian heritage and is meant to not only be a place for reflection and to honour our ancestors and history, but also welcome visitors arriving at Lynden Pindling International Airport.
Sponsored by Atlantis and the Ministry of Tourism, the effort features what the artists refer to as "sacred women" – figures crafted from the trees there that were damaged in past hurricanes. Ferguson accentuated the space with the addition of bells that he hung from the branches of the surrounding trees.
The bells are said to represent the voices of our ancestors.
The second of three such spaces, the Blake Road site sits at the corner of JFK Highway and Blake Road and had over the years become neglected, overgrown with weeds and thick underbrush.
Atlantis, committed to projects that help to enrich local communities, heeded the call to bring a little TLC to the space and spearheaded the clean up.
"Just as we recognised the value of having the space created in the first place, we saw the need to have it cleaned up and maintained for the enjoyment of all. This site is one of the first places visitors leaving the airport will see and it helps to tell an intriguing story of who we are as a resilient people," said Ed Fields, Atlantis Senior Vice President for Public Affairs.
"Welcome" was preceded by "Genesis," the first Sacred Space created in 2005 which is located at Clifton Cay on the former Whylly Plantation – one of the first landing places for slaves brought to The Bahamas.
"Genesis" features 12 wooden sculptures of 'sacred women,' complete with Ferguson's bells. The third installation in the Sacred Space series is at Atlantis' Cove Beach.
Created in 2017, it features seven sculptures, carved from the trunks of Madeira trees that pay homage to the Bahamian woman.