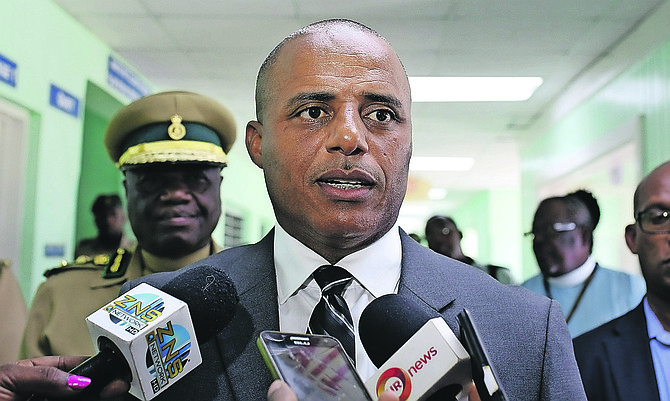 By MORGAN ADDERLEY
Tribune Staff Reporter
madderley@tribunemedia.net
NATIONAL Security Minister Marvin Dames is "very anxious" to establish the Sexual Offenders Registry, Eugene Poitier, Acting Permanent Secretary in the Ministry of National Security, said on Friday.
Mr Poitier said he wrote the Permanent Secretary in the Attorney General's office last Thursday, to request that the regulations for that piece of legislation be put to Cabinet.
He made these remarks at a Bahamas Crisis Centre workshop, where he spoke on Mr Dames' behalf.
The plan for a sex offender registry was introduced in 2013 with an amendment to the Sexual Offences Act after the murder of 11-year-old Marco Archer by a serial child predator.
The subject of the registry has been thrust into national spotlight again following revelations by police last week that two young girls had been sexually assaulted by a male perpetrator.
The first victim was a six-year-old girl who was assaulted on April 28. The second was a twelve-year-old girl who was attacked on May 14.
Earlier this month, National Security Minister Marvin Dames pledged the government will establish the registry before the year's end.
Mr Poitier added that while the previous government had passed an Act, "the regulations for that remain outstanding".
As Friday's theme was "Violence in the Family: Behind Closed Doors", Mr Poitier's remarks also addressed the topics of domestic violence, marital rape, and incest.
"In recent months, the controversial topic of marital rape became prevalent in Bahamian day-to-day conversation," he said.
"While some lobbied for sex without consent in a marriage to be labelled rape, others pointed to the sanctity of marriage and argued for sex without consent in marriage to be called spousal abuse."
Mr Poitier added that the matter will only be addressed by "amending the Matrimonial Causes Act or the Domestic Violence (Protection Orders) Act".
Mr Poitier also noted that domestic violence is about power and control, and that cases of incest "almost always" occurs in homes where domestic violence occurs.
He added that violence in Bahamian families has affected the development of our country by "influencing" the nation's "economic state in terms of law enforcement, health care, labour, and general progress".
Mr Poitier also referred to the Ministry's commitment to empowering agency personnel.
He said the government has signed a $20m loan facility with the Inter American Development Bank [IADB] focusing on at-risk youth.
Calling it a "four component project", the "front end" of the initiative will focus on reaching at-risk youth through community centres.
The target audience will be young people between the ages of 15-29 who may have not finished high school and are "vulnerable".
One community centre is in Fox Hill and another is set to open on Baillou Hill Road adjacent to NIB, he said.
"That's going to be our pilot community centre," Mr Poitier said.
"And what we're going to do is infuse programming in there so that we can capture at-risk youths at the beginning."
There are also initiatives in place to assist imprisoned youth.
Mr Poitier continued: "And then at the end, at the other end of the spectrum, those at-risk youths in remand at the Bahamas Department of Correctional Services, we have programming in there as well…to gear towards reducing recidivism and to making sure that they're properly re-acclimated back into society."
"So this is really a problem. And so our community centres will focus on teaching youth about the adverse aspects and elements of violence against females and violence period and how to deal with conflict resolution skills constructively."
In September 2017, he said, a "number of police officers" participated in a workshop to help improve their responses to domestic violence situations.