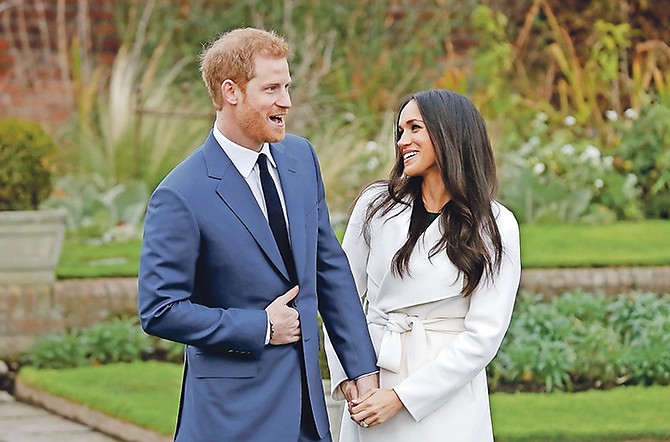 WHERE TO WATCH?
Set those alarm clocks. You will have to wake up pretty early if you want to catch all the excitement of Prince Harry and Meghan Markle's big day – from the arrival of the first guests to the couple's last wave and kiss before they head to the reception.
Here's a list of channels that will be broadcasting the nuptials live:
• ABC's five-hour coverage begins at 5am and will be hosted by Good Morning America's hosts Robin Roberts and David Muir.
• BBC America will provide live streaming coverage of the event
• CBS begins their coverage at 4am. Tina Brown will join Gayle King and Kevin Frazier who are hosting the event. CBS will also air a two-hour special, "Royal Romance: The Marriage of Prince Harry and Meghan Markle", at 8pm.
• E! 's Giuliana Rancic, Brad Goreski, Sarah-Jane Crawford and royal expert Melanie Bromley will host 'E! Live from the Royal Wedding' from 5am-10am
• On Fox, join Shepard Smith and co-anchor Sandra Smith as they provide commentary from outside St George's Chapel starting at 6am. Ainsley Earhardt will also co-host Fox & Friends Weekend live from Windsor beginning at 5am.
• At HBO, after hosting Amazon's coverage of the Rose Parade earlier this year, Cord Hosenbeck and Tish Cattigan — aka Will Ferrell and Molly Shannon — will host the live coverage of the royal wedding starting at 7.30am.
• NBC's Today, led by Savannah Guthrie and Hoda Kotb, will start broadcasting from Windsor Castle at 4.30am.
• PBS will broadcast "The Royal Wedding: Prince Harry and Meghan Markle" with live coverage from the BBC, starting at 4.15am. Meredith Vieira will be joined by UK host Matt Baker, along with reports from Anita Rani at Windsor Castle.
• TLC 's begins its four-hour coverage of the wedding ceremony at 5am. Later that evening, "Say Yes to the Dress" stars Randy Fenoli, Lori Allen and Monte Durham. as well as renowned bridal designer Hayley Paige and fashion expert George Kotsiopoulos, will be on hand to analyse the fashions of the day with a special one-hour show called "Royal Wedding Revealed" at 10pm.
By CARA HUNT
cbrennen@tribunemedia.net
You may not be among the 600 privileged guests to be invited inside St George's Chapel to witness the royal tying of the knot of Prince Harry to American actress Meghan Markle tomorrow, but that does not mean that you cannot get into all the excitement surrounding the wedding of the year.
More than a billion people are expected to watch the ceremony either on TV or the internet, and since you will have to wake up super early (the ceremony starts at 7am Bahamian time), why not make a morning of it by having a few family and friends over to enjoy the occasion.
A royal wedding watch party can be loads of fun. Given the time of day, breakfast is the meal of choice. Consider offering guests a traditional English breakfast of bacon, fried poached or scrambled eggs, fried or grilled tomatoes, fried mushrooms, bread or buttered toast and sausages. Or if that option seems a bit too heavy, why not go with a lighter but equally British breakfast of scones, clotted cream, cucumber and egg mayonnaise (egg salad) sandwiches along with salmon and sliced beef.
In addition to whatever meal you serve, you will want to wash it all down with a lot of English team and because it's a wedding, of course some mimosas, champagne or cider for a celebratory feel.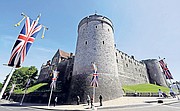 As you and your guests wait for the ceremony to begin, consider making a few bets on the details on the day. English betting agencies are offering wages on all sorts of details, from the big questions of who will design the wedding gown (Ralph & Russo are the current leaders) to what colour hat the queen and the other royal ladies will wear, to whether the bride or groom will be late to the big day and whether Meghan will don a tiara, and which one.
If you're really into it, guests can dress up in formal wedding attire, or you can just go the comfier slumber party route and invite everyone to wear Union Jack PJs. Pinterest has many templates for royal wedding bingo and trivia questions about the couple that can also be used to add to party events.
The royal wedding will be a great red carpet event as fashionably clad women arrive. Host your own fashion police by rating the hats, dresses and accessories of guests.
In whatever way you choose to view tomorrow's event, just remember it's as much about having an excuse to party as it is about the wedding.