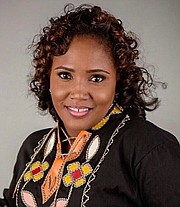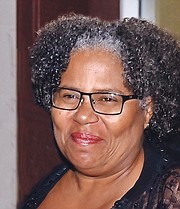 By FELICITY INGRAHAM
This past weekend, a noted member of the press and the legal fraternity was laid to rest. She was an attorney with passion as a legal advocate for women and children, a journalist and a communications specialist. More importantly to me, she was like a big sister throughout my childhood years.
Her younger sister, my godsister Cresstina (Tina) and I are in age set and we looked up to her growing up; she had a brilliant mind and a beautiful smile. She carried herself with a poise she maintained all the days of her life. She spoke the Queen's English, as it is called, very well and at all times, and she had the etiquette and diplomacy to sit in the presence of royalty and the everyday man. Her life was celebrated in a funeral at St Anslem's Church, Fox Hill, on Saturday on the day Prince Harry and Meghan Markle married and became the Duke and Duchess of Sussex. She would probably have had it no other way. She, like the newest member of the British royal family, took international platforms to defend the rights of women and girls.
Gina Patrice Morley played a part in inspiring me to be the journalist I am today. As a child, I would always hear the elder family members brag about Gina. When Tina and I were children, Gina was studying and then working in Jamaica, making strides in the media and legal profession.
I knew from a very young age that I wanted to work in the media and the arts, so it was always fascinating to hear the stories of Gina's continuing success. She was one I could pattern myself after. She had no qualms about expressing her opinion and standing up for equality and justice, just as I do today. She always encouraged me in my career as I gained experience in radio, television, print and internet mediums.
As a media professional, Gina thought it important to honour people for the work they do and she used media as a platform to do that. I have adopted the same philosophy and it is with pride that I prepare my column each week, sitting Face to Face with great people and sharing their humbling and motivating stories of trial and triumph.
I was planning to sit down with "big sis" Gina and prepare her own Face to Face one day. She had recently undergone surgery, but we were expecting her to recover. As fate would have it, she has left us and has also left an indelible mark on the lives she touched. Her voice, her words may not be heard in this article but her life was fully lived and a story worth telling.
She was born on October 7, 1962, in Georgetown, Exuma, to Cressel and Beatrice (Betty) Morley who chose the name Gina, which means "great", from Johny Matthis' hit song at the time. There were some complications following her at-home birth, and mother and baby had to be immediately flown to Nassau for medical assistance at Princess Margaret Hospital.
Gina's parents and her paternal grandmother, Helena Ferguson, watched and prayed as she fought for her life. Being the "fighter to survive", a characteristic she would become known for throughout her life, Gina pulled through.
"Mama" Helena would become the matriarch of Gina's childhood home and the two would form an immense bond throughout her upbringing. Her mother's parents were Helen Glass, a loving, warmhearted native of Jolly Hall, Exuma and Eddie Granger, brother of Dean William Granger, noted Anglican priest. Cressel Morley was the first manager of the Exuma International Airport and was the first licenced broker on the island, who continues to run a brokerage in the capital, Georgetown – CP Morley & Associates.
Gina spent her early years growing up in beautiful Exuma but her parents, both former educators, decided to send her and her brother Derek (Ricky) to Nassau to live with their Aunt Mavis and Uncle George Smith, former Member of Parliament for Exuma. She attended Queen's College and stood out among her peers. She loved participating in school plays and won many debate competitions, receiving the EP Roberts trophy in the junior division of inter-high school competition. This would lay the foundation for the future with her love of being in action in the court room.
After graduating from Queen's College in 1978, Gina worked at ZNS TV, the Broadcasting Corporation of The Bahamas for a short while. During this time, she had the opportunity to interview the late great Robert Nesta 'Bob" Marley on his historical visit to The Bahamas in 1979. This was a monumental moment in her life because she was a fan and considered him "one of the most fascinating people in the world".
Shortly after, Gina travelled to London to further her studies. She attended the International School on London where she attained an international Baccalaureate in World Literature, World History, Philosophy and French. She worked at The Voice newspaper, the leading black newspaper in London at the time, where she served as Caribbean Correspondent. She became a noted writer and travelled throughout the Caribbean for several years in this capacity.
Gina then decided to pursue a career in law, first attending the University of the West Indies in Cave Hill, Barbados and then the Norman Manley Law School in Kingston, Jamaica, where she graduated with a first class honours degree in law. She rallied her Bahamian counterparts at the school and became President of the Bahamas Student Association there. She was later called to both the Bahamas Bar and Jamaica Bar Associations nearly 27 years ago.
The Government of Jamaica employed her as a prosecutor in the legal clinic, a position which she enjoyed. Eventually, her passion for media would draw her to the Jamaica Observer where she served as legal advisor. Her writing bug needed to be quenched and she did so by creating the "All Woman" magazine which is today, similar to The Tribune's "Weekend", still a favourite part of the Observer newspaper.
Very passionate about women's affairs, Gina used her platform to promote this cause and in 1995, she attended the United Nation's Fourth Conference on Women held in Beijing, China, where she had the opportunity to interview former US Secretary General Hillary Clinton – another momentous occasion for her.
A devout Catholic, Gina became affiliated with St Marten de Porres church in Gorgon Town, Jamaica, as well as the Sisters of Mercy Association. She served with excellence in Jamaica and was recently honoured by the Observer just after her passing. The newspaper honoured her for "championing the cause of women's and children's rights". Long-time friend Marcia Thwaites, who travelled from Jamaica to attend the funeral, told the Observer: "She was a Bahamian who came to Jamaica in the 1980s and totally fell in love with Jamaica. Every opportunity she had to come to Jamaica, she did. She even sent her daughters back here to school at Hampton. She was very passionate about helping women understand their legal rights. I will miss her friendliness and her visits. I will continue to have the friendship through her children."
Mrs Thwaites also commended Gina's energy when it came to volunteerism. She volunteered with Women Inc in Jamaica for nearly ten years, working its Crisis Centre Hotline. She also worked hard on the Justice Committee for Sisters of Mercy. In addition, Gina was committed to teaching Sunday School in Jamaica and in The Bahamas.
Gina was raising her daughters Mia and Makeda in Jamaica when she received a proposal to join a law firm in Nassau. She accepted and gladly returned to the country of her birth with high hopes of continuing to excel in the legal and media profession.
She served as a managing partner at Grangers Chambers Counsel and Attorneys at Law, working with a wide portfolio including gender rights, media law, constitutional and employment law, civil litigation, and copyright and trademark law. She rejoined the Broadcasting Corporation as a legal secretary and officer and in her four years there, she not only dealt with the corporation's legal business, but she also educated its journalists on libel, slander and defamation via a series of seminars and a manual she created of do's and don'ts for journalists.
While serving as an attorney, her passion for media led her to Guardian Radio 96.9fm where she hosted the programme "It's the Law", giving free legal advice to the public on a variety of issues. She also hosted "Bahamian Bio" an evening radio programme where she did work similar to what I am privileged to do for The Tribune, sharing the life stories of great Bahamians.
After returning home and making new roads towards her passions, Gina gave birth to her son, Duval. As a single mother, Gina worked arduously to provide the best in upbringing and education for her children.
In the past few years, Gina faced multiple health challenges which hindered her mobility; yet, she persevered as the fighter she was always known to be. On April 6, Gina was admitted to hospital. Her sister Tina rushed from the family brokerage in Exuma to be at her side and never left. For all the selflessness that Gina paid to others, her sister is now repaying it to her even in her death.
Tina has taken on the awesome task to raise Gina's children. She has made the decision to remain in the capital and raise them along with her own three children. Tina is also in the media profession, once serving as the host of a popular morning show on Exuma's the Breeze 98.3fm.
When asked how she was able to make such a mammoth decision to take on Gina's teenage children, Tina said: "My decision to become guardian of my nieces and nephew was very instinctual, it was very natural. It wasn't something I had to think about, it was very natural for me; I love them deeply. Gina gave me instructions and it is my honour, my duty, my privilege. I am my sister's keeper."
The Eleutheran newspaper also honoured Gina's passing, reporting the comments of the president of the Bahamas Press Club, Anthony Capron.
"Ms Morley was a valued member of the Bahamas Press Club," he said.
"She contributed much to the progress of the BPC and her sage advice will be sorely missed, especially as we plan this year's media awards. Ms Morley was responsible for the 2017 Media Awards theme: 'Uncovering The Bahamas', held at the British Colonial Hilton Hotel, at which she proudly displayed some of her creative artwork."
Gina would often recite her favourite poem "Still I Rise", authored by Maya Angelou, because of its personal and literal translation in her life. Her own struggles serving as a catalyst for empathy with all women and their plight.
As the poem says, in part: "You may write me down in history with your bitter, twisted lies… you may trod on me in the very dirt… but still… like dust… still I rise."