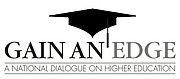 Imagine having completed your Information Technology (IT) Management degree two years ago, yet what you learned then still helps you solve issues today.
Mystique Stevenson is a service desk technician at Baha Mar, who feels she has been well equipped with the requisite knowledge and skills to get the job done. She credits the Bahamas Technical and Vocational Institute (BTVI) and specifically chair of the IT programme Anthony Ramtulla for positioning her for the world of work.
"He embedded in us to keep it simple. That by far has been the one thing that has helped me a lot with troubleshooting problems that I come across in my work," said the 2016 graduate, who also received her CompTia Network+ and CompTia A+ certifications while at BTVI.
"You could ask him anything IT-related and he would give you a sensible answer. He has such vast knowledge in his field," she added.
Although there is the theoretical component of all programmes at BTVI, Mystique said the practical aspect really prepared her for her career path.
"Not everywhere gives you hands-on training the way BTVI does. That was the major reason I chose BTVI. So now I'm very comfortable working in my position because I can easily solve most of these issues because I'm not afraid of the equipment," she said.
In fact, Mystique said what she learned in the CompTIA A+ and Network+ courses, in addition to micro computer applications is still helping her today on the job.
"I use the knowledge I learned in my everyday troubleshooting… I frequent my BTVI notes and text books often, especially when I'm working on projects," she added.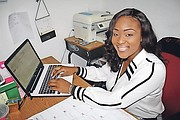 Richine Bethell also graduated from BTVI in 2016. Within weeks, she landed a job as a guidance counsellor at Mt Carmel Preparatory Academy.
The young woman was a part of BTVI's office assistant programme and speaks highly of many of the courses she still draws on today, including introduction to business, record keeping and advanced keyboarding.
"I did not have an assistant for my department, which meant I had to complete all tasks by myself. Thankfully, the teachings from these courses prepared me for this transition on a large scale. I've always been a very organised person and during the office assistant course I wondered where I would have the opportunity to use the skills acquired; the opportunity was awaiting me right at Mt Carmel - having to build a department from the ground up," said Ms Bethell.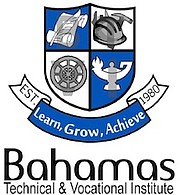 "When I found myself in that situation, I quickly adapted and did what I knew needed to be done based on what I had learned. An example was the filing system that I implemented for my department. I organised my office in a way that if I was not around, persons would be able to simply follow that system put in place and get the job done."
While some BTVI graduates go on to become entrepreneurs, others work for large reputable companies including Cable Bahamas, the Bahamas Telecommunications Company (BTC), Baha Mar, Atlantis, Bahamas Power and Light (BPL), Friendly Ford and the Royal Bahamas Defence Force.
BTVI's career resource officer, Michael Smith, works daily with students regarding their career trajectory. He helps them to discover the possibilities of what opportunities exist once they graduate from the institution, adding there are personnel from companies who often call, requesting students and graduates.
"For example, barbers, hair stylists, carpenters, construction workers, IT students, heating ventilation and air conditioning (HVAC), auto mechanics, welders, plumbers and the like. We also get requests for office workers, clerks and junior accountants," said Mr Smith.
"The benefit of a BTVI education is, in my humble opinion, second to none. When our students leave and go into industry, they are job ready from day one, having been exposed to hard and soft skills to successfully perform."
Mr Smith added the most requested areas are the technical and beauty trades.
"There was an auto student who was retained immediately after his 160-hour internship period. He was sent to Puerto Rico for further training. We even had a student who finished his programme at BTVI, went off to school and was hired by a European carmaker during his final semester in college. It speaks volumes for the foundation they received at BTVI," said Mr Smith.
Additionally, in March 2018, six of BTVI's carpentry students and six electrical installation students proved their job readiness. MoVi Group founder, Burton Wallace made the request for the paid assistance. Students helped with the infrastructure set up and break down for the four-day Cisco conference at Baha Mar. Cisco is a world leader in technical solutions.
The students worked alongside with the lighting and sound technicians, electrical engineers and technicians, digital experts for the LED wall and signage, carpenters, and riggers for the heavy ceiling installations.
"BTVI now has the opportunity to get students involved in practical training in the industry as we have plenty more jobs where we can bring them in… we'll definitely do this again. We have another job (coming up) that's maybe almost five times the size of this, and I told them I'll need almost 50 people from BTVI alone," said Mr Wallace.