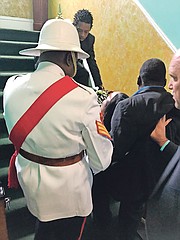 By KHRISNA RUSSELL
Deputy Chief Reporter
krussell@tribunemedia.net
DESPITE Parliament passing the Persons with Disabilities Act four years ago, a wheelchair-bound woman had to be carried up the stairs of the House of Assembly by three men to attend yesterday's session.
This is not uncommon, as the building is not outfitted with the means to accommodate people with disabilities.
It has also been nearly six months since the December 31 deadline passed for every building in the country used by the the public to be easily accessible to those who are blind, deaf, use a wheelchair or have other disabilities requiring particular accommodations.
However, Social Services and Urban Development Minister Lanisha Rolle says the scene could soon change.
She announced yesterday a group is looking into the feasibility of installing lifts at both the House of Assembly and the Senate building. The government is also looking into appointing disability inspectors to look at compliance issues around the country.
"The Commonwealth Women Parliamentarians, that's all female parliamentarians, on our last sitting we considered the feasibility of our donating through our efforts a lift for persons with disabilities," Mrs Rolle told reporters outside the House of Assembly yesterday.
"Certainly we are looking to bringing on a few disability inspectors to begin to look at the measure of compliance. Certainly the commission and the members who are there now have been around and have been engaging and on educational campaigns to ensure that persons understand the importance of equal access of persons with disabilities and CWP is simply seeking to partner with them."
Asked whether there are compliance issues, the minister said: "I wouldn't say issues with compliance (but) ensuring everyone understands what is required in terms of compliance there are certain specifications as to how ramps are supposed to be, where they are supposed to be in a building.
"There are instances where persons who are able to walk are falling down on some of those ramps because some of them are too high, some are too low, some the wheelchairs still can't get up on them and so there are certain specifications.
"So these individuals will be trained to inspect according to specifications to ensure that persons have equal access and still it does not offend persons who need to be able to walk.
"They will also ensure that there is parking for the disabled in the proper places."
She continued: "But in terms of the government buildings many of them are very old to a certain extent and sometimes it is difficult in terms of the structure to get the installations in place as quick as we want them, but certainly we need to look at creative ideas and innovative ways we can still ensure that the disabled community has access to buildings no matter what."
While many buildings remain non-compliant with the Act, the minister said the December 31, 2017, has not been extended.
"But we are continuing to work with the community. I want to just stress also that his is a complex matter because again we are dealing with persons with their businesses who have to invest in it. That's their responsibility to invest in it and to partner with the community."
Once the inspectors are fully functional, Mrs Rolle said they will study the Act and make a determination on the level of enforcement necessary.