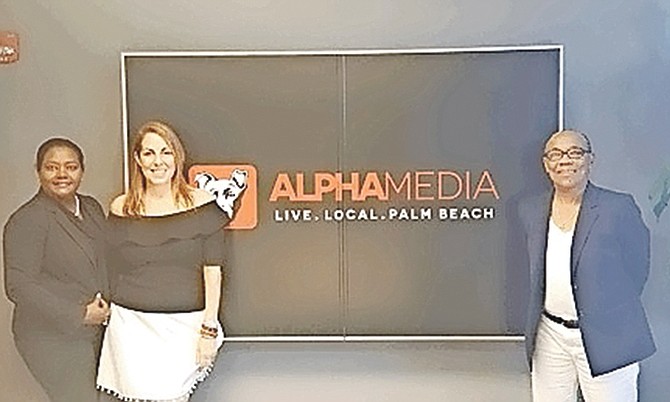 THE Bahamas Ministry of Tourism and Aviation (BMOTA) has partnered with a Florida-based multimedia broadcast company to create, produce and broadcast a customised digital radio show.
The 30-minute radio talk show Bahamas Travel will be produced by Alpha Media in Palm Beach, and is set to launch on WFTL 850AM on Saturday at 10am through to July 14.
For eight weeks, listeners from Broward and Dade counties in the south to as far away as Tampa in the north will be able to tune into Bahamas Travel, the first and only travel talk show, on WFTL 850 AM. Thousands more will be able to listen in by streaming online on any of Alpha Media's digitised channels as well as via www.Bahamas.com/radio.
Each week a lucky listener will also be given an opportunity to win a prize ranging from a complimentary airline or cruise line ticket to The Bahamas, a luxurious hotel stay or an exclusive authentically Bahamian destination experience in The Bahamas, when they tune into the show and answer correctly, the weekly trivia question on www.850wftl.com.
Bahamas Travel is the newest marketing initiative organised by the BMOTA Plantation Office and is designed to further heighten The Bahamas' diverse and impressive brand, increase market visibility, engage loyal listeners, increase visitor interest and bookings to its destination and simultaneously, promote the latest developments, trends and tourism activities occurring in the 700 Islands of The Bahamas. Some of the leading hospitality, travel and allied industry professionals will also be featured on the show, weekly.
All content material, commercials, formatting and production will be controlled by The Bahamas Ministry of Tourism and Aviation.
Veteran hospitality professionals at the Ministry of Tourism Earnestine Moxyz, global communications manager and Donna Mackey, senior sales manager will serve as the show's radio hosts.
Participating sponsors for The Bahamas Travel Show are: Bahamasair, Silver Airlines, FRS Caribbean, Balearia, Sandyport Beach Resort, Bluff House Beach Resort & Marina in Green Turtle Cay, Abaco and Treasure Cay Beach Resort in Abaco.