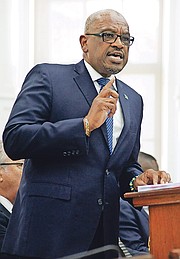 PRIME Minister Dr Hubert Minnis called for love between Bahamians and Haitians as the government seeks to eradicate shanty town communities.
He was addressing the League of Haitian Pastors' 24th Annual Crusade/Civic Night at the Church of God Auditorium on Joe Farrington Road on Thursday, May 24, 2018.
Minister of Transport and Local Government Frankie Campbell served as an interpreter.
Underscoring the strong ties between The Bahamas and Haiti, Dr Minnis addressed "misunderstandings" in the government's dealing with issues of illegal immigration.
He said: "No matter where we hail from, we also celebrate unity in our diversity. We must be one people in love and unity."
"I thank the League of Haitian Pastors for the work you do in our communities, including your pastoral and social ministry and outreach.
Dr Minnis urged the group to let their crusade be a time to express their love of God and love of neighbour, which God has instructed all to do.
"No matter the struggles, no matter the suffering, no matter the trials and tribulations, no matter the heartbreak, no matter the mountains to climb, we should always rely on the love and mercy of the God who sustains us in every season of life. Let us all always continue to seek God's guidance and grace," he said.
Dr Minnis also sought to clear up any misconceptions regarding the Government's intentions to, over time, remove shantytowns in New Providence and Abaco.
He said the government has set up a large task force to carefully plan for the removal of shantytowns, "so that we can better assimilate the residents of these areas, and help to improve the quality of life of residents".
Dr Minnis noted the task force includes a number of representatives of the Haitian community, including pastors with whom the government is in continuous dialogue.
"There has been a tremendous misunderstanding," he said, "by some people, of what we are trying to do."
"Our aim is to improve the lives of all of those affected by what we are doing."
"The ties between the Bahamas and Haiti go back several centuries," he continued, "Haiti and The Bahamas are bound together by history, by geography and by family ties. So many Bahamians enjoy such family ties; this is something to be celebrated."
He added: "We celebrate those who have contributed so much to building our Bahamas, no matter which land we originally came from."