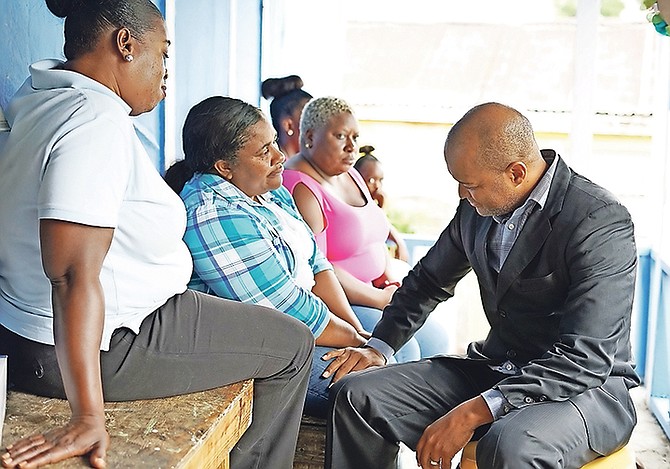 By RICARDO WELLS
Tribune Staff Reporter
rwells@tribunemedia.net
IN the wake of another police-involved shooting in his community, Centreville MP Reece Chipman is calling for the creation of statutory framework to investigate and examine police shootings.
The recommendation was made on the front porch of Beverly Lee's home. Her son, 20-year-old Deangelo Evans, was purportedly shot 18 times by police on Sandy Lane, off McCullough Corner Sunday morning.
Outlining the proposal, Mr Chipman insisted the rise in police-involved shooting deaths across the country mandated the establishment of a state-run organisation focused on evaluating the circumstances of serious crimes involving police. He said the organisation would outline the specifics of each case and submit a report on its findings.
"I am looking for a report where we can see justice in action," he told reporters.
Police shot and killed 11 people last year.
Eight people have been fatally shot by officers so far this year.
According to reports issued by the Royal Bahamas Police Force Sunday, officers were responding to an armed robbery near East Street and Bethel Ground Corner when they travelled to McCullough Corner, and met Evans and another man sometime around 9.15am.
Police said the pair matched the description of suspects involved in that earlier robbery.
Those reports further indicated that one of the men produced a firearm. It is unclear whether Evans or the man he was standing with brandished the weapon. 
The officers were reportedly in fear for their lives when they opened fire.
Evans was taken to Princess Margret Hospital where he later died.
Relatives maintained yesterday that he was not armed.
They also insist that he was searched by police on Sandy Lane, and shot during that process.
To that end, Mr Chipman said yesterday: "I am calling for a full report on the investigation into the shooting death of Deangelo Evans in the Masons Addition area.
"We have had quite a number of police shootings this year and it is time to put this in perspective."
He continued: "All indications in Masons Addition show that it is just not enough to visit a family, and I am very happy to visit (and) go to a funeral, and have speeches or presentations. But we have to demand that our community remains safe and is protected by the full arms of justice."
Mr Chipman said incidents like the Sunday shooting have pushed community-police relations back to less amicable times.
Referring to Mr Evans' death, he said it requires both police and politicians to "live up" to their responsibilities and mandates of accountability and transparency.
"So as a member of parliament for this area I want to represent what is fair and what is just," he said. 
Likening his proposal to the United States' Department of Justice, Mr Chipman said: "There are many cases in the United States where young men have been shot by officers and there is a Department of Justice that produces a full report, because what this does is it allows a community to heal.
"We are not saying one person is right. We are not pointing fingers.
"We are saying that we would like a full investigation and a report so that our community can heal and heal properly.
"Also, it will help the officers of officer involved in terms of bridging this gap between the community and the police relationships," he added.
"So we want this report so that we are able to know, well, was the police called?
"You know we have the body-cams that were, (Police Commissioner Anthony) Ferguson would have indicated that we had body-cams in November. I am not sure if they were tested or if they are in use.
"But, we want to know if body-cams were being worn so that we could know whether or not this family, who is grieving at this time, they can see what happened," Mr Chipman said.
The United States' Department, according to its official website, operates across four mandates, namely to ensure fair and impartial administration of justice for all Americans.
In October of 2016, following several police involved shootings, US Attorney General Loretta Lynch announced plans for the agency to collect nationwide data on interactions between law enforcement and civilians, including police shootings and in-custody deaths.
Current legislation mandates all police-involved shootings are investigated by Her Majesty's Coroner.
Following that process, the matter would be transferred to Coroner's Court for a judicial inquest.
As of last year, there were some 28 police-related deaths that required an inquest, most of which were "just there", languishing in the system, according to Attorney General Carl Bethel.
When interviewed by The Tribune on the problem late last year, Mr Bethel could not say how far back the outstanding matters went.