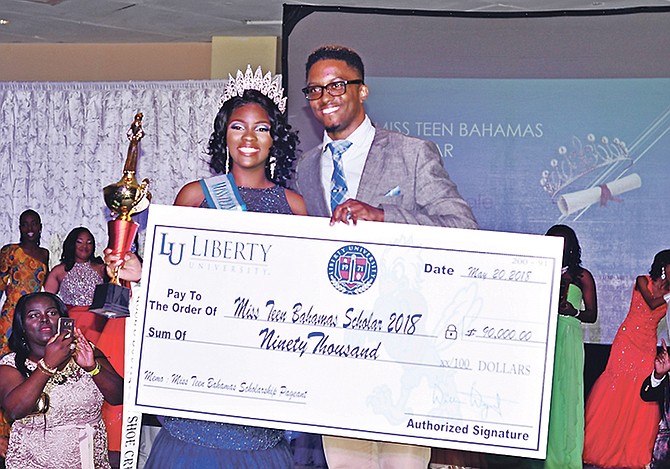 By JEFFARAH GIBSON
Tribune Features Writer
jgibson@tribunemedia.net
AFTER weeks of intense training and workshops, 16-year-old Blendicah Cadet came out on top and was named as the new Miss Teen Bahamas Scholar.
Blendicah, a student of C V Bethel Secondary High School, competed against 17 young ladies during the pageant's finale last week.
In addition to her "exceptional grades, good track record of being involved in the community or an active youth," Blendicah nailed her response to the final question.
This question was based on this years's pageant theme, "World View". Each contestant was asked: "If you had to use your platform to share to a global audience, what would you do to get the message across in your campaign?"
In front of family, friends and supporters at the Meliá Nassau Beach All-Inclusive resort, Blendicah answered: "That's a good question. I would start off by going on television. Everyone watches TV. Then, I would go on social media. The main place I would want to be is on TV in Japan. In Japan only eight per cent, yes I said eight per cent, of females love the way that they look. That's very saddening. I would dedicate a whole month to body shaming. Body shaming is very important. Individuals don't even know that they are body shaming. You look at me today, 'Oh you should be in a pageant!' You just body shamed me without even knowing it. So, I want people to be aware of what they are doing. Lastly, in the schools I would implement that teachers should punish anyone that body shames, because it really damages the person. Do you know what is to love doing something, playing sports, and then told you are too sloppy, to go home and cry...that makes you depressed. That makes you not want to eat anymore. That happened to me. I don't want that to happen to anybody else. That breaks a person. That's what I would do. Thank you."
Anthony Smith, national director of the Miss Teen Bahamas Scholar pageant, said Blendicah wowed both the judges and the audience.
"Blendicah will prepare for her international competition in late summer. She will also be preparing for her studies more intensely as she is the recipient of $90,000 scholarship to attend the prestigious Liberty University. Therefore, her grades must be consistently propelling," he said.
The 17 contestants underwent 12 weeks of workshops, sessions and activities, including in modelling, make-up application, self-defence, film production, communication, public speaking and a fitness boot camp. Students from various private and public schools around the country entered in the competition in hopes of capturing the $90,000 scholarship offered by the leading university in Lynchburg, Virginia.
Other finalists in the pageant included first runner-up Eurena Williams, second runner-up Trashea Davis, third runner-up Ciera Davis and fourth runner-up Jessica Ferguson.
Mr Smith said this pageant is a great programme in that all of the young ladies leave as winners.
"The audience were stunned that the top five could've gone either way. In short, all of the ladies were intelligent and highly qualified for the crown. In addition to that, many of the parents learned about the other colleges and universities that have partnered with Miss Teen Bahamas Scholar, thereby offering more opportunities to young ladies whose academic discipline is specific to their needs," he said.
Upon completion of the pageant, each contestant received a partial scholarship to attend Liberty University, the world's largest Christian college
"I trust that (the contestants) have walked away transformed. Then my work would've been done. In fact, a parent left an incredible message about how she has seen the changes, the maturity and the growth in her daughter. That is usually the common feedback after our 12-week enrichment programme," he said.