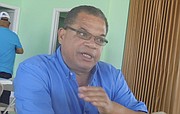 By RASHAD ROLLE
Tribune Staff Reporter
rrolle@tribunemedia.net
KEY Oban Energies documents will be released to the public after a cabinet sub-committee reviewing the project has completed its task, Press Secretary Anthony Newbold said yesterday.
The committee is headed by Labour Minister Dion Foulkes and is responsible for "monitoring" the project.
Although the Minnis administration has released the project's Heads of Agreement, it has not released documents indicating where the plant will be built on East Grand Bahama.
Developer
In fact, it was Oban Energies president Satpal Dhunna, not the government, who revealed to the public that 690 acres of crown land has been granted to the developer.
"When that sub-committee is comfortable with where they are, all those documents will be released," Mr Newbold said during a press briefing yesterday.
Last week Free National Movement (FNM) parliamentarians blocked the opposition's attempt to establish a select committee to investigate matters relating to the $5.5 billion oil refinery and storage project.
At one point, Englerston MP Glenys Hanna Martin expressed concerns about the government's lack of transparency on the matter.
She said: "The government has yet to formally disclose the said 'hereditaments' or the land involved in this deal which are generally described in the agreement as "Crown land" and "sea bed"; the sea lands were required by the very agreement to be specifically identified by exhibit or plan attached to the Heads of Agreement but to date has yet to be done and the agreement was laid in this Parliament without having complied with article component."
Mrs Hanna-Martin continued: "It was left for the Bahamian people to learn from Oban executive Satpal Dhunna, assuming his information is correct, that the site of the refinery and storage facility will be 'two miles east of Statoil, which is in East Grand Bahama'. He is reported in the Nassau Guardian as stating that: 'The land is a narrow corridor running from the beach to the main road and slightly above it. The Crown land is a nice piece of 690 acres of land. The narrow corridor is really just for the pipe corridor to move product in and out. The actual terminal refinery will be at the rear end, away from the seas.'
"This is the first specific description as to the location of the Crown land," she said, "which is being divested in this deal for a period of up to 90 years by Crown Lease. This lack of proper disclosure and failure to be transparent on the part of the Bahamas government is a grave dereliction and is inexcusable. This is a source of serious complaint by Bahamians in general and everywhere but also to the Bahamas National Trust which has management responsibility for national parks and in particular which opined that they were only able to gather some kind of guidance of the land's general location by referring to Oban's website."