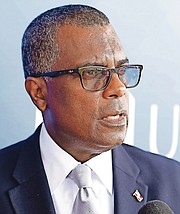 By RICARDO WELLS
Tribune Staff Reporter
rwells@tribunemedia.net
IF Senator Ranard Henfield does vote against the government's proposed Interception of Communication Bill, he should resigned immediately or be terminated, Senator Fred Mitchell insisted yesterday.
Over the weekend, Mr Henfield indicated on social media his intention to vote against the controversial Bill as "a matter of conscience" when it is debated in the Senate.
Twitter
A post on Twitter said: "It should be clear where one stands today on an issue that one vehemently fought yesterday. For the record, I have no intention to abstain or vote in favour of this Bill. 'Those who are opposed, will say nay'…"NAY." A matter of conscience."
Addressing the comments yesterday, Mr Mitchell accused the self-proclaimed "independent Senator" of merely striving to "have his cake and eat it too".
Mr Mitchell said the 'We March' activist, in his post as government whip in the Senate is responsible for keenly presenting the government stance on matters up for debate.
In this case, Mr Mitchell said Henfield was taking up a position that not only opposed the government's views, but would delay a critical piece of government legislation.
"The party whip is bound by the same collective responsibility as the Cabinet. So I raised before this question in the Senate: how can the whip openly disagree with government policy?" Mr Mitchell told The Tribune.
He continued: "I said the Opposition could no longer rely on the government to put its position because the government would be speaking with forked tongue.
"If he goes ahead and votes against the bill which is a major piece of the government's legislative agenda, then he should resign upon taking that vote or the Prime Minister is entitled to fire him."
Referring to the Bill itself, Mr Mitchell furthered: "The PLP worked to have most of the objectionable bits taken out. So why he thinks it's a matter of conscience is a mystery."
"I am not shocked," Mr Mitchell added.
However, in a separate interview with The Tribune this week, a senior Cabinet minister explained Mr Henfield's post as government whip doesn't prevent him from voting his conscience in any circumstance, because the post doesn't really exist.
That Cabinet Minister said: 'There really is no office of whip in the Senate."
Whip
"He is called that simply because he prepares our list of speakers. There is no true whip in the Senate because unlike the House, Senators are appointed not elected. The elected must be whipped into line. The appointed get dis-appointed."
The Interception of Communications Bill was passed by Parliament last week without input of Prime Minister Dr Hubert Minnis who once opposed the bill, and in the face of strong push-back by members of the Official Opposition.
The FNM's advancement of the Bill comes a little more than a year after the party used the Christie administration's draft Bill to castigate the Progressive Liberal Party in their general election campaign.