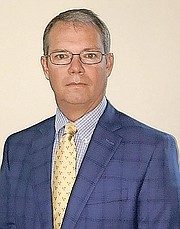 By NEIL HARTNELL
Tribune Business Editor
nhartnell@tribunemedia.net
The Chamber of Commerce's chairman yesterday said he was "personally frustrated" that the World Bank had ignored evidence of improvements in The Bahamas' cross-border trade regime.
Michael Maura, pictured, saying he was "disappointed" that much "real work" in upgrading The Bahamas' "ease of doing business" had not been recognised, revealed that World Bank officials had failed to deliver on promises to cut the time for clearing imports by almost 50 percent.
Describing The Bahamas' one-place improvement in the World Bank's 2019 "ease of doing business" rankings as "better than no change", Mr Maura said this nation appeared to have been given little credit for upgrades such as the "single portal" through which start-ups can apply for their Business Licence.
While The Bahamas' 118th ranking was better than the Latin American and Caribbean average, the Chamber chairman said there was "still much room for improvement" in the country's processes and how the private sector interacts with the Government to obtain all the necessary permits and approvals it needs.
Mr Maura said it had taken The Bahamas "decades to become as inefficient as we have been", and it would take a concerted effort by both the Government and the private sector over several years to fully reverse this trend and improve the economy's competitiveness.
Assessing the World Bank's findings, Mr Maura said he was especially troubled that it had kept the time required to clear a shipping container at 51 hours when its own officials had told him they would reduce it to 27 hours for this year's report.
"I am personally frustrated with the results for 'trading across borders' where the World Bank 'ease of doing business' team did not acknowledge a single enhancement made to our border process," said Mr Maura, who is perfectly placed to observe improvements as chief executive of Arawak Port Development Company (APD).
"The 'trading across borders' survey is 18 pages long, and queries everything from port fees to Customs Brokerage charges; the cost for local trucking; Bahamas Customs charges associated with the clearing process; and the time required to procure and complete each stage.
"The Nassau Container Port is able to receive an empty container from a trucker and also provide an import container to the same trucker in 19 minutes. Our port has been consistently ranked No.1 by the Florida Shipowners Association in vessel productivity since 2013. In 2016, the Caribbean Development Bank ranked our port No.1 in its regional port efficiency study," he continued.
"Yet the World Bank 'ease of doing business' team chose to document the total average number of hours to collect an import container at 51 hours. What makes this even more upsetting is that on May 10, 2018, the World Bank ease of doing business representative reviewing the submissions stated that they would use 27 hours as the maximum time to collect an import.
"It is important to note that a significant percentage of all imports arriving at the Nassau Container Port by ship are unloaded from the vessel and out-gated from the port the same day they arrive in Nassau. These importers have their goods within eight hours of the vessel arriving and are required to adhere to the same process available to all."
Mr Maura told Tribune Business that "50 percent of cargo coming off the ship" is cleared at the Arawak port on the same day. Yet the World Bank's latest "ease of doing business" index shows The Bahamas going backwards on cross-border trade, falling from 157th in the world to 161st.
"It appears they gave us the same rank as they did last year," he added. "It doesn't appear they acknowledged the improvements made in cross-border processes. They left us the same in metrics, but due to improvements by other countries we find ourselves becoming worse."
Recommending that the Government and private sector have "greater engagement" with the World Bank over the "ease of doing business", the Chamber chairman added: "Notwithstanding the improvements and enhancements which must occur, it is unacceptable that the World Bank does not acknowledge the positive steps that have been taken and, worse, that they simply ignore them and copy and paste last year's results.
"Also, we here at home cannot continue to take these international surveys as casual and insignificant tasks. They impact our economy, investment and jobs. If you receive a survey next year, do your research.
"In the shipping sector there are hundreds of importers that either refuse to embrace technology or are simply ignorant as to what is available. Today the majority of the cargo documentation moves electronically, and these traders are leveraging technology. Your responses in a World Bank 'ease of doing business' survey should consider the technology that is available."
Mr Maura, a member of the Government-appointed 'ease of doing business' committee chaired by Lynn Holowesko and Bryan Glinton, told Tribune Business that "real work has gone into trying to make improvements in our 'ease of doing business' in The Bahamas".
"I look at a one-point improvement as essentially flat, and there has been a very real effort on the part of both the Government and private sector to modernise our processes, to make our processes more efficient and address bureaucracy in government in terms of unnecessary steps and duplication of effort and so forth," he said.
"Do I believe we are close to an optimal business environment? The answer is no. It's taken us decades to become as inefficient as we have been, and it's going to take us some years - not many, but a few, to address policy, legislation and regulations, to amend tax processes and administrative fees at the port charged by Customs."
Calling for The Bahamas to "press on" with change, Mr Maura said reforms needed to be enacted "today and not tomorrow", with both government and private sector becoming better educated about processes and system improvements they can exploit.
He also called for fees to reflect "the cost of service" as opposed to being revenue earners for the Public Treasury, adding: "An example of this is the Customs administrative fee of 1 percent of the value of the shipment. The World Bank believes this fee serves to inflate the cost of import processing at the border, and challenge the trade process.
"Other countries with a better ranking do not have such a fee. Efficient economies remove inefficient processes and fees which prevent the trading community from getting the goods to market as soon as possible. In these instances, the efficient Government collects its fees and taxes after the goods have been placed in inventory, and during the sales and service process.
"Additionally, it is critical that each Government agency/department charged with facilitating business be equipped with the necessary Information, Communication and Technology (ICT). Today our Customs department does not have the necessary ICT systems and this must be addressed. The new Bahamas Electronic Single Window (ESW), once launched at the port, will have a meaningful impact on trade efficiency. But it is taking too long to bring this system on line."
Mr Maura also pointed to the streamlined Business Licence approval process for start-ups as further evidence of improvements that the World Bank has not taken into consideration in its latest analysis.
"If we consider 'starting a business', the business application process has improved with the introduction of a single portal which the new applicant uses," the Chamber chairman said. "This single portal passes the work of engaging the various Government agencies/departments to the Department of Inland Revenue team, saving the applicant time.
"We must acknowledge that opportunities remain to improve our Business License renewal processes, but we must acknowledge that progress is being made, and note that those charged with reforms are challenging both historical practices and new requirements which undermine the ease of business objective."