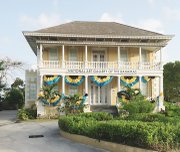 By CARA HUNT
Tribune Features Writer
cbrennen@tribunemedia.net
THE National Art Gallery of The Bahamas has been asked to be a streaming site for the 2018 Creative Time Summit being held in Miami, Florida.
The event begins today and runs until November 3.
This is the first time the country has been asked to participate in the summit which is considered to be one of the most important of its kind each year.
Creative Time is an annual convening for thinkers, dreamers, and doers working at the intersection of art and politics. Functioning as a roving platform, the summit brings together artists, activists, and other thought leaders engaging with today's most pressing issues. Presenting a critical range of perspectives, the summit provides strategies for social change in local and global contexts.
Katrina Cartwright, NAGB education officer, and Holly Bynoe, the gallery's chief curator, recently sat down with The Tribune to discuss the role NAGB will play in this year's event.
"This is the first time that we have been invited and really considering the scope of the event, it is a pretty big deal for us," Ms Bynoe explained.
"It shows that we are indeed doing something right as an institution to be recognised."
Ms Cartwright added that there is a special significance that this year's event will be held in Florida given the close historic ties the Bahamas has to the state, from post-slavery days to the days of migrant workers from this country working there in the 1930s and of course the connection to South Florida Bahamians enjoy to this day.
NAGB will livestream a session from the summit each day and has also organised a series of local events to coordinate with that content.
Over 80 speakers will engage with themes including immigration and borders, climate realities, notions of intersectional justice, gentrification, tourism as an enabler for neocolonialism, and the roles art and activism can play in all these pressing issues.
This year's speakers include Haitian-American author and MacArthur "Genius" Edwidge Danticat, philosopher Timothy Morton, writer Vijay Prashad, artist Zach Blas, curator Elvis Fuentes and Cuban-born artist Maria Magdalena Campos-Pons.
At the gallery, events will begin today with extended hours to view the new showing of Lavar Munroe's exhibition "Return the Magic of Flight" and Jonathan Bethel's exhibition "Elemental".
The gallery will also show "Get Out" - the Jordan Peele horror film which won the Academy Award award for best original screen play.
"This movie tackles so many of themes that we expect to come out during the summit so we are sure it will lead to great discussion," Ms Cartwright explained.
In between summit screenings on Friday, there will be local presentations by Joey Gaskins on intersectional justice, Dr Adelle Thomas on climate change and Dr Naombi Hall-Campbell Dean on reparations and social justice.
And to end the three day event, there will be a photo walk and history talk around the Over-the-Hill communities, with a guided tour by Christopher Davis, lead historian at the Pompey Museum.
Artists and academics Angelika Wallace-Whitfield, Melissa Alcena, Jodi Minnis, Dr Ian Bethell-Bennett and Eric Rose will also be on hand during the tour.
Each of the events are free to the public and there will be opportunities to purchase refreshments throughout each day.
For more information and to see a detailed list of speakers and topics, please visit www.nagb.org.bs.