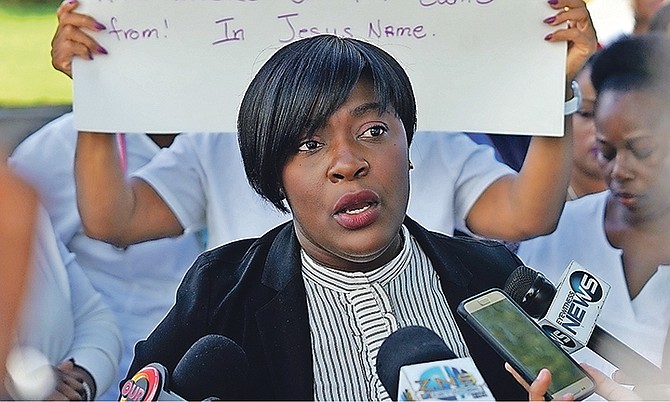 By AVA TURNQUEST
Tribune Chief Reporter
aturnquest@tribunemedia.net
BAHAMAS Nurses Union President Amancha Williams stressed yesterday that her members' fight against a new shift system was rooted in the protection of their livelihood as scores of nurses marched on the Ministry of Health.
The demonstration began at the General Post Office building shortly after 9.30am yesterday and followed a Tuesday meeting with PHA officials, which Mrs Williams described as positive.
"We all decided to come together and just show the country that we have the best interest," Ms Williams told ZNS, "the nurses, we have the best interest of the country.
"It's not about money, the shift change that we want to change or are non compliant to is not conducive for the nurse. We have reviewed the shift change and the shift change is not just about $1.75."
Under the new shift, nursers working between 6pm and 6am will receive a $1.75 per hour premium in addition to their standard hourly pay.
Mrs Williams continued: "It's more than that, it's our livelihood being taken away from us. It is the security of our families being taken away from us. In order for us to function as a nurse, we need time for the mind to become rejuvenated.
"We need this body to be relaxed so we must follow the rules and regulations of taking care of a patient and administering drugs. We must be, first, alert."
She added: "It's also about living up to what the law says and we need to stop playing games with the people."
The PHA announced last week that the four days on/four days off shift will change to a five days on/two days off shift in over a month. The two sides dispute what impact the change will have on the well-being of nurses; and also its legality given that a 2014 agreement on the shift change between the BNU and PHA was not adopted in its 2015 industrial agreement.
While it's not clear what impact 12-hour shifts have on nurses' health, one study by academics at the University of Southampton concluded that such shifts "may lead to reduced nurses' well-being and healthcare systems' loss of productivity."
Meanwhile, Health Minister Dr Duane Sands maintained he would not interfere with ongoing negotiations so long as they were conducted fairly and in good faith.
Dr Sands told reporters yesterday he had "no beef" with public nurses, noting his ministerial responsibility over both the BNU and the PHA.
He suggested the outspoken nature of both doctors and nurses in recent weeks could be linked to perceived freedom from victimisation.
"I have to encourage dialogue," Dr Sands said, "and certainly wherever there's foul, as a referee of sorts, I would have to interfere. But failing that this will have to play out. So do not expect for the minister to interpose himself into these negotiations, discussions, as long as they are proceeding in good faith.
"Maybe this is a period where people feel released in order for them to speak their mind," he continued, speaking about recent protests from those in the public health system, "where they're not concerned about victimisation and so they feel this is a reasonable opportunity because we will listen.

"The beauty of democracy is sometimes it gets loud, sometimes it gets a little bit contentious but bear in mind people can feel that there is not going to be a situation where their attempt to advocate for their own rights would be met with anything other than consideration and hopefully some positive change."
He added: "How can we complain when they are staying within the confines of the rules? They are demonstrating their discontent and then they go back to work and take care of patients."
The new shift for nurses is set to take effect next month.