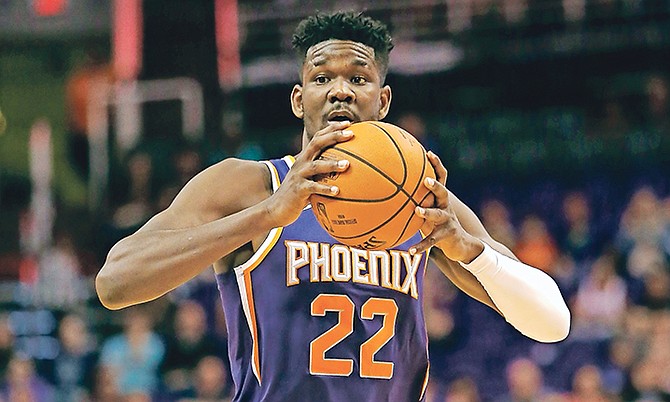 By RENALDO DORSETT
Tribune Sports Reporter
rdorsett@tribunemedia.net
Deandre Ayton had a weekend where he recorded his fifth double double of the season and the Phoenix Suns followed with their first win since opening night.
The No. 1 overall pick in the NBA Draft had 17 points and a season high 18 rebounds for the Suns in Friday's 107-98 loss to the Toronto Raptors at the Talking Stick Resort Arena.
Ayton followed with nine points, eight rebounds, two blocks, three steals and tied his season high with six assists in the Suns' 102-100 win over the Memphis Grizzlies.
"It wasn't a perfect game by any means, but we needed this one," Suns coach Igor Kokoskov said. "We needed this one as a group, as a unit, for many, many reasons."
Devin Booker's jumper with 1.7 seconds left snapped the Suns' seven-game losing streak (2-7) and was their first win since a 21-point win over Dallas on opening night.
Ayton leads all rookies in rebounding at 10.7 per game, third in scoring at 16 points per game, and third in assists at 3.4 per game.
The loss against the Raptors was one of the few where the Suns were in contention in the fourth quarter. Phoenix was up 52-48 at the half and Ayton already secured the double double with 10 points and 10 rebounds.
Phoenix led at halftime for only the second time this season.
Phoenix trailed by only four early in the fourth quarter before Toronto's decisive 14-2 surge. The Suns led most of the first half but never by more than seven points.
They lost their previous six games this season by 28, 20, 18, 21, 17 and 30.
"We have to sustain playing a physical, strong team like Toronto. We have to sustain and play 48 minutes. We had a stretch in the fourth quarter that we couldn't handle the physicality, their length, their size. Kokoskov said. "And we were just tired."