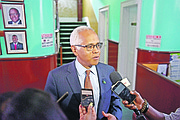 By NEIL HARTNELL
Tribune Business Editor
nhartnell@tribunemedia.net
The Bahamas "cannot ignore" China's fast-growing tourism market even though the US will "always be our bread and butter", the Minister of Tourism argued yesterday.
Dionisio D'Aguilar, who has just returned from leading a joint industry-government delegation to Beijing and Shanghai, told Tribune Business that The Bahamas will "have to allocate more marketing resources" and establish a more consistent on-ground presence if it is to make deeper inroads into the Chinese market.
Revealing that the Ministry of Tourism has already acted on the latter issue by hiring a Chinese travel agency to represent The Bahamas, Mr D'Aguilar said this nation had to "pay some mind" to the world's largest economy even though it currently supplies just 3,000 stopover visitors per year.
While distance, language and airlift obstacles all have to be overcome, he added that the Ministry of Tourism was focused on marketing The Bahamas as an "add-on" destination for Chinese visitors to major North American cities given the relatively short flight times.
Acknowledging that The Bahamas would have to better develop its cultural, historic and other attractions for Chinese visitors, who like to keep active rather than relax on a beach, Mr D'Aguilar said the recent trip - where the Ministry was accompanied by executives from Atlantis, Baha Mar, The Pointe and Majestic Tours - represented "the first step" in a long process.
While many in the Chinese media and travel agency communities were unsure of the Bahamas' geographic location, the Minister said he was "encouraged" by the fact there was knowledge of Exuma's swimming pigs and Harbour Island's pink sand.
"China is a very interesting market with enormous potential," Mr D'Aguilar told Tribune Business. "One hundred and thirty-one million Chinese took outbound trips from China last year, and that's growing 6-7 percent every year.
"We obviously have the issue of distance to overcome, as it's a long way from China, and particularly at the outset the numbers will be relatively small. It's probably 3,000 a year and growing, but it would be silly to ignore this market because the economy of China is growing leaps and bounds, and is the second largest in the world."
Mr D'Aguilar said the growth in wealth, and the number of high net worth Chinese, was of particular significance to The Bahamas as it was this population segment that will be able to afford travel to this nation.
Explaining The Bahamas' likely China strategy, he added: "We're trying to sell The Bahamas as an add-on trip to the US and Canada. This is a strategy that, once you've made the long journey to Canada or the US, it's a relatively short trip from Toronto, three hours; New York, two-and-a-half hours; Atlanta, one-and-a-half hours; and Miami, 50 minutes.
"It's a relatively short hop to add on a beach holiday to city-centric holiday."
Mr D'Aguilar told Tribune Business that Chinese travel agents were "delighted to learn" that travellers to this nation will not require a visa to enter The Bahamas, recalling that the absence of such bureaucracy was "very warmly received".
He acknowledged that "a substantial increase in demand" was required for direct airlift between The Bahamas and China, while the provision of Mandarin speakers, signage and literature would further improve this nation's attraction for Chinese visitors.
"Obviously it's a process of getting the word out about The Bahamas," Mr D'Aguilar told Tribune Business. "Many people are geographically confuses about our precise location. It's an education process to educate those in the travel industry, who then educate the travellers.
"That process is well underway. A lot of them have heard of Atlantis, and now Baha Mar. A lot of them have heard of the pink sand in Harbour Island, a lot of them have heard of the swimming pigs. I was encouraged by the enthusiasm and turn-out, and that The Bahamas was as well-known as it was."
Chinese ownership of Baha Mar and The Pointe provides "a certain level of comfort" with The Bahamas, with Mr D'Aguilar suggesting there were sufficient attractions on different islands to already put together a five-day schedule for such visitors.
"We had to start the process of getting out there," be told Tribune Business."We all came away saying we have to come out there at least once a year. We've hired a representative to represent The Bahamas on the ground, a Chinese travel agency, and they did an excellent job getting the media and travel industry to our meetings.
"It's a market where you don't make one trip and things happen. This starts the process. You have to allocate funds to marketing. We came back saying we have to allocate more resources to that market to get results."