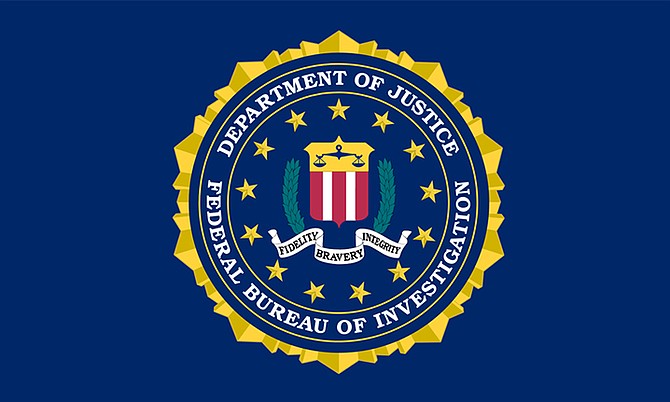 By AVA TURNQUEST
Tribune Chief Reporter
aturnquest@tribunemedia.net
A two-year FBI sting operation into visa fraud in the Bahamas has uncovered an alleged bribery ring between senior Bahamas immigration officials and a purported justice of the peace for fraudulent long-term work permits.
The US Federal Bureau of Investigations paid three Haitian nationals just under $50,000 to participate in the undercover operation, which has led to the arrest and indictment of four Haitians living in the Bahamas and one Bahamian, along with the alleged lead conspirator Edward Israel Saintil, who holds both Bahamian and Haitian passports.
Saintil is accused of encouraging and inducing illegal entry into the US, and was arrested in late September after he travelled to the District of Columbia to purportedly collect a $14,000 fee to smuggle a Haitian national into the country and arrange a marriage to a US citizen.
The FBI's investigation kicked off in October 2016, and the bribery claims are detailed in an affidavit sworn by US federal agent Kevin Gounaud, who previously served in the US Coast Guard for 14 years.
In recorded meetings, Saintil boasted of close relationships with both current and former top immigration officials – saying he preferred one over the other because the official was more of a "businessman" – along with capacity to obtain fraudulent bank statements to support visa applications.
Saintil further claimed immigration officials did not process work permits unless they are paid to do so, adding that bribes to obtain fraudulent documents for Haitian nationals were the cheapest.
On January 10, Saintil met with the lead informant at a restaurant in Nassau and brought two women along. The conversation was recorded. They discussed the price of bribe payments to immigration officials, with Saintil saying the prices were inflexible due to competition from different nationalities also paying bribes.
"So that's why they deal more with the Chinese. The Chinese paying like $10,000, $15,000 for just one work permit," Saintil told the FBI's lead informant.
". . . Jamaicans pay a lot – and the Jamaican be the same amount, but the Spanish people – the Spanish and the Chinese. It's absurd they make money off. You know, they pay a lot of money."
He also said: "That's why like, the only way, that when you see - to senior officer in the Immigration Department or some officers, when they ask you for set amount, so, you got to make sure like what they ask you for, you come with it, otherwise, you know, you might not get it, because like they have, like, some other nationality to make money off."
Saintil had also claimed he was in possession of six or seven work permits, telling the FBI informant he had been holding them since December 2017 due to non-payment.
"Yeah, yeah, get into the US," said Saintil during the January recorded conversation with the informant.
"I do, I do these application for people. I, I fill out the visa form for visa and everything, you know what I'm saying?
He continued: "So I'm not going to charge you big for, I'm just going to charge you the, the fee to put in the application like and do the bank letter to say that you should have an account. And then, you know, even like if you don't have an account at the bank, I can get the letter… from the bank saying that you have some money in their account and blah, blah, blah.
"You know," Saintil said, "we go from there. And the people, the person, the people who can sign for the permit, I tell you the signer is someone who have access, and the people have access to fly to the United State.
"So when they're checking the system they'll see the person who sign as the boss of, is someone who gonna have access to the United State, gonna make it easy for the person, for the application get a visa…I do visa applications and things. So I know how to make arrangement for them to be qualified to get a visa."
Fees
Haitian nationals Kevin Desir, Johnlee Paul, Edna St Fleur, and an unnamed co-conspirator, along with Bahamian Pauline Pratt - alias Polena Sharmaine Pratt and Pauline Johnson – are facing charges of conspiracy and visa fraud.
It was St Fleur who introduced the US informants, referred to as confidential human sources (CHS) 1, 2 and 3, to Saintil.
It remains unclear whether there was any coordination with Bahamian law enforcement as the initial meetings between Saintil and the lead FBI informant (CHS-1) took place in Nassau on January 9 and 10, but all subsequent meetings were conducted in the US.
"Saintil told CHS-1 that he used money to create a path for his customers in immigration," Mr Gounaud's affidavit read.
"Saintil explained that the immigration staff would ignore legitimate applications and would '...only work on the part where they're making money'."
Saintil quoted the lead informant, CHS-1, $11,000 to obtain Bahamian work permits for the other two informants, CHS-2 and 3.
In addition to his own profits, Saintil broke down the payment for each permit as: $1,500 for the fake employer; $2,500 for an immigration official; $1,500 for related costs like application fee, labour certificate, advertisements, police and medical certificates, and miscellaneous payments to other officials.
The lead FBI informant paid Saintil $5,500 during a February 10 meeting at the airport in Fort Lauderdale, also providing a copy of CHS-3's passport and passport photos.
The informant promised to pay Saintil an additional $500 if he brought the work permit back to the US, and that he would pay for CHS-2's permit after he got the first permit.
Saintil told the informant $3,000 would be used to bribe a senior immigration official.
The pair met again at the airport in Fort Lauderdale in May, and Saintil told the informant that St Fleur was no longer trying to get a US visa, but instead was in the process of buying a Bahamian passport from him for $3,000.
Saintil then suggested the informant consider purchasing a marriage to a US citizen, stating there were advantages to obtaining US citizenship through fraudulent marriage compared to obtaining a US visa.
Saintil explained CHS-3 would be in the Bahamas legally due to his work permit, and a US citizen could come to the country to marry him. He said a marriage for one person would cost $13,000.
"In the Bahamas," Saintil said, "he don't have to go to Haiti to get marriage. 'Cause he in Nassau, legally, with the work permit and thing. So anyone come in and marry him, all the process and be done, at the embassy."
Saintil insisted he had executed such an arrangement for "plenty people" and had a perfect rate of success.
Saintil obtained a two-year work permit for CHS-3 as a handyman for his company Saintil's Painting and Cleaning Services on August 1.
The Tribune has withheld the name of the official who signed the permit. Saintil alleged he paid the immigration official $3,000 for the permit that same day.
On August 18, Saintil met with CHS-1 in Miami and provided him with the Bahamas work visa card for CHS-3.
During that meeting, Saintil told the informant it would cost more money to obtain a work permit for CHS-2 because of the problems and cost increases dealing with CHS-3's document.
The informant paid a $1,100 deposit for CHS-2's work permit; however, at the meeting, Saintil suggested the informant consider smuggling CHS-2 to the US by private boat.
"So I have a connection with a white man who has a boat – a private boat," Saintil said.
"When people here I, I have like, um, a couple people who book with me already. He just go on his private boat. And then, you know, it's, it's, it's something small, so but he, [stutters] it's a lot, cost a lot. When I say a lot – $6,500 is the charge to do it."
Saintil explained the boat left from Bimini to Miami or Ft Lauderdale, adding it was safe and trips were always successful.
The $6,500 did not cover the cost of air travel to Bimini, he said.
As for CHS-3's arranged marriage, Saintil said his cousin assisted him with sourcing women.
The informant told Saintil he would be getting $16,500 for a new job in the District of Columbia in September, and would be ready to make the transaction. The pair agreed to meet again in DC on September 27, when the informant would pay Saintil $14,000 to smuggle CHS-3 into the country and arrange the marriage with a US citizen.
Saintil was arrested at that meeting.
Mr Gounaud previously worked for four years in the Caribbean Basin with focus on immigration enforcement and migrant smuggling enforcement operations concerning illegal entry from Haiti and the Bahamas.
The FBI agent noted his affidavit did not include all information known by the government, only the facts necessary to support the case.
• IN Saintil's recorded statements he identifies three senior officials working in the Department of Immigration as being involved in his activities.
The Tribune, for the moment, has chosen not to name these officials so as to give the government time to look into the allegations.
Under the rules governing legal proceedings we would be fully protected under law to name these individuals.
The allegations are of such a serious nature the government should immediately be asking questions.
Payments to Immigration officials have long been suspected and now the proof appears to be there.
We asked for the government's reaction to Saintil's statement, but have yet to receive a response.
The government should be aware when Saintil's case comes to court the names of everyone involved will be named in an open hearing with ourselves and US papers free to report.
Hopefully the government will be proactive and have sorted its house before that comes to pass.