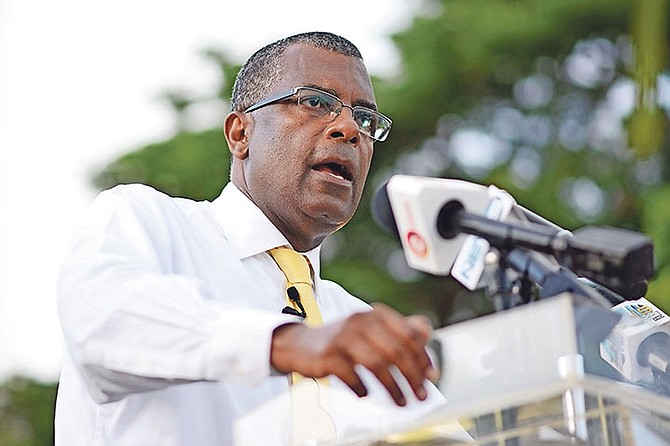 By KHRISNA RUSSELL
Deputy Chief Reporter
krussell@tribunemedia.net
PROGRESSIVE Liberal Party chairman Fred Mitchell yesterday rebuked Donovan Moxey, telling the Bahamas Power and Light chairman to leave the inflammatory invective to politicians who have equal standing in the arena with Official Opposition Leader Philip "Brave" Davis.
Mr Mitchell accused Dr Moxey of "backpedalling" over his estimation earlier this week of how much BPL bills have increased; using his own usage as an example, Dr Moxey told reporters he saw a spike of between 60 per cent and 70 per cent.
However, Mr Moxey blasted Mr Davis on Wednesday for using the same figures, calling him "irresponsible," and saying he should know better.
"Donovan Moxey's comments attacking the leader of the opposition as reported in this morning's press are out of order and inappropriate language for the chairman of a public corporation," Mr Mitchell said in a statement released yesterday. "Dr Moxey should leave the inflammatory invective to politicians who have equal standing in the arena with the leader of the opposition. He ought to stick to the facts and keeping the lights on.
"It appears that poor Dr Moxey does not even remember what he said on the rate issue. He himself indicated as reported in direct quotes on Eyewitness News that his own bill saw an increase of 60 per cent due to fuel charges. It reported him further as saying that there were bills as high as 70 per cent higher.
"This morning's backpedalling by Dr Moxey is evidence of a change to a convenient narrative due to mounting public disapproval regarding the drastic increase in the cost of energy to consumers."
The release continued: "We also point out that the general issue is that whatever BPL says, the public does not believe them. BPL's leadership has no credibility. The corporation still has the stench of corruption around it. This will continue until the government is able to explain why it's former chair was dismissed with the claims made by her of suspect conduct by other board members, including Dr Moxey.
"Until the prime minister and the FNM are able to start the promised investigation and come clean on the alleged corruption, no one will believe a word BPL or its chairman says. Attacking the leader of the opposition cannot help Dr Moxey keep the lights on. It is clear they have no plan for BPL and thus they have to attack and blame the PLP.
"The Bahamian people demand of the chairman of BPL and the Minnis government that they deliver immediately both a cost-effective and sustainable solution to our energy challenge. Any increase in the cost of energy on an already economically burden society is a departure from any form of good conscience."
On Thursday, Tribune Business reported Dr Moxey had criticised claims that electricity rates will increase by 70 percent as "irresponsible" and "false ramblings".
Dr Moxey told this newspaper on Wednesday: "I thought it was irresponsible. There is no 70 percent rate increase. That number came from nowhere.
"The only thing that changed from a rate perspective is a two cents movement in the fuel surcharge going from 17.5 cents to 19.5 cents. It would take months, if not a year to get a rate increase approved by URCA (the Utilities Regulation and Competition Authority)."
The Nassau Guardian also reported Thursday that Dr Moxey lashed out at Mr Davis, and called the PLP's leader's comments "completely irresponsible."
"I'm referring to the petition to anybody who talks about 70 percent increase," the newspaper quotes Dr Moxey as saying. "I'm referring to some news press release I saw given by the opposition party. All of those people who do that are irresponsible and they know better or at least they should know better."
His comments came the same day Mr Davis released a statement criticising the government for what he called "the sharp 70 percent hike in electricity cost."