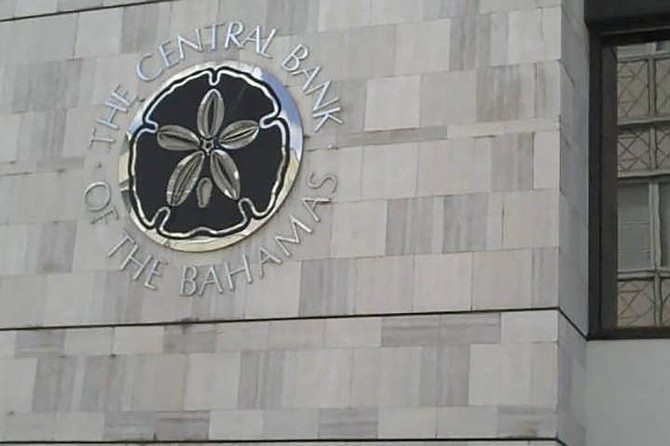 By NEIL HARTNELL
Tribune Business Editor
nhartnell@tribunemedia.net
The Central Bank is proposing to ban its licensees from dealing with "anonymous" crypto currency assets, with 84 percent of local institutions saying they have no desire to enter this space.
The regulator, unveiling a "discussion paper" on proposals for regulating what it called "crypto assets", said it "will likely prohibit" its bank and trust company licensees from handling products "intentionally designed to hide details about end users' identity".
With The Bahamas already under scrutiny from the Financial Action Task Force (FATF) over "structural deficiencies" in its anti-money laundering and counter-terror financing (AML/CFT) regime, the Central Bank said the risk of such instruments being exploited to facilitate financial crime and tax evasion was simply too great.
The Central Bank said this applied to both clients' crypto assets and investments in these products by Bahamian bank and trust companies themselves, with the latter barred from using customer deposits and restricted to shareholder monies (its own capital) only.
"SFIs (supervised financial institutions) may only invest in crypto assets and/or entities heavily exposed to crypto assets with shareholder funds - not client deposits. When doing so, they will be precluded from holding instruments that are designed to remain anonymous," the Central Bank paper said.
"Banks are not to accept 'cryptocurrency' deposits on balance sheet, or to extend such loans to customers. Also, given the price volatility and uncertainties around valuation, crypto assets held 'in custody' cannot be pledged as collateral for other loans. Similarly, banks are not to extend credit to clients for the purchase of crypto assets.
"SFIs will likely be prohibited from conducting transactions involving crypto assets (such as Monero, Particl, Dash and Zcash) that are intentionally designed to hide details about end users' identity. When new clients wish to use custodial services, they must satisfy enhanced customer due diligence (CDD) requirements and, where applicable, provide their public key to confirm that they are the beneficial owner of the crypto asset," the regulator continued.
"These and other safeguards are to ensure that all banks operating in and from within The Bahamas do not facilitate crypto assets 'in custody' from clients wishing to engage in tax evasion, money laundering, terrorism financing or other illicit activity."
Emphasising that it wants to develop "a Bahamian approach" to regulate this sector and the wider blockchain and financial technology (FinTech) industry, the Central Bank said Bahamian banks and trust companies will be restricted to "custodial arrangements" when dealing with client crypto assets.
It added that "comprehensive due diligence" will be required, with licensees mandated to obtain information on how such assets originated and the source of funds used to acquire them. Beneficiaries and signatories on such custody accounts will also have to prove their identities.
The Central Bank's regulatory proposal follows swiftly behind an October 17-26 survey conducted to gauge industry interest in participating in the "crypto asset" space. Drawing 49 response from around half the regulator's supervised institutions, the findings suggest the banking industry's typically conservative, risk averse nature is deterring many from embracing this innovation.
"The results indicate extremely minimal involvement and very limited intentions to engage in crypto asset exposures or activities. A limited number of institutions have already adopted corporate level policies suggesting minimal appetite for entering the space," the Central Bank concluded.
"Virtually all of the respondents (94 percent) indicated that their institution had no exposure to crypto assets. Only one entity disclosed some involvement on a custodial basis for clients. Two other SFIs reported that they had facilitated the purchase of crypto assets on their trading platforms and over-the-counter.
"Generally, even where a corporate level policy was not present, Bahamian banks and trust companies did not plan to venture into the crypto asset space. In particular, approximately 84 percent of the respondents (41 SFIs) indicated that they were not planning to become exposed to crypto assets in the future," the Central Bank added.
"There were eight respondents that wanted to have exposure to crypto assets, but six of them had no corporate policies in place to govern these intended activities."
Turning to these eight institutions, the Central Bank said three were interested in providing client services through financing the purchase of crypto assets; holding these in custody; and accepting crypto deposits.
"There was an interest by four respondents in facilitating clients in their purchase of crypto assets through the issuance and promotion of an initial coin offering (ICO) of payment tokens, trading platforms and over-the-counter transactions," the Central Bank added.
"Further, two respondents indicated that their institutions planned to act on their own behalf by investing directly in payment tokens and, to a lesser extent, indirect exposure through investments in companies heavily exposed to crypto assets."
The Central Bank added that only 17 percent of respondents, or eight financial institutions, had corporate policies in place to deal with crypto assets. Of those, two planned to have crypto exposure in the future, while a further six had decided to avoid the sector entirely.
Acknowledging that it was taking a "conservative approach", the Central Bank said the existing exchange control regulations would govern the ability of Bahamians to invest in initial coin offerings (ICOs) and other crypto assets.
"The [Central] Bank will also prohibit direct convertibility between Bahamian dollar (B$) currency or officially sanctioned B$ crypto instruments and foreign currency denominated crypto assets or non-resident sponsored instruments," it emphasised.
"This is consistent with the current exchange control requirements. For transactions involving Bahamian residents and non-residents, commercial banks (authorised dealers) are still charged with conversion into and out of domestic currency."
Expanding on this theme, the Central Bank added: "Bahamian residents will not have the ability to buy tokens or coins on any exchange and settle in Bahamian dollars.
"Subject to the range of domestic (Bahamian dollar) instruments permitted by the Securities Commission, residents will be allowed to invest in local crypto assets. However, for exchange control purposes, direct investments in such assets by non-residents will remain prohibited, aside from general accommodations that already apply for 'like' portfolio instruments under exchange controls...... Non-fiat based payment tokens are impermissible Bahamian dollar crypto instruments."
With ICOs leaving consumers "susceptible to fraud" because they are largely unregulated, the Central Bank nevertheless said it will support offerings of "asset tokens and security tokens that have similar properties as shares". The direct issuance or sponsorship of tokens that are not linked to, or backed, by normal currency will not get backing.
The Central Bank acknowledged the potential for crypto assets to aid access to financial services and electronic payments in remote Family Islands, and added: "The Central Bank supports a modernised financial services sector, with focus on financial technology (fintech) innovations.
"The regulatory framework must evolve in an appropriate and proportionate fashion to support these developments. In so doing, the sector's competitive posture must be enhanced - without compromising the integrity or international reputation of The Bahamas. Or undermining the financial safety of Bahamian households."