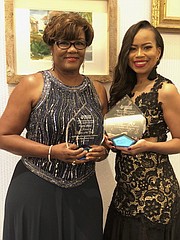 One of two CIBC Trust Company (Bahamas) nominees took away a top award from the recent annual financial services industry Excellence Awards.
Norma T Major, director of operations for finance and client accounting, won Mentor of the Year, while Taryn Turnquest, a trust administrator, was nominated in the Achiever of the Year category.
Perry A Rolle, CIBC Trust Company (Bahamas) managing director, said: "Both women's professional work ethic and behaviours easily fit the requisite criteria set out in the financial services industry Excellence Awards nomination forms. And we were thrilled when Norma emerged as the overall winner in her category. We're very proud of them and the staff is thrilled.
"We are extremely pleased, and indeed proud, to have employees such as Norma on our team. We are even more elated that with her high quality of performance, her pro-activeness, dedication and commitment to the job, and the level of professionalism that she displays. Norma not only finds the time but shows a keen willingness to mentor others within our work environment."
He added that Ms Turnquest, although a relatively new member of staff, has already made herself known as a team player and woman of action.
"Once a task has been assigned to Taryn, she runs with it and requires little to no supervision, as we've learnt that the end product will be of a high quality," Mr Rolle said.