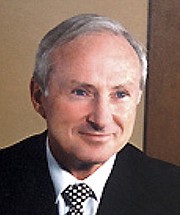 By NATARIO McKENZIE
Tribune Business Reporter
nmckenzie@tribunemedia.net
A prominent developer and real estate financier yesterday called for the Bahamas International Securities Exchange (BISX) to be "overhauled", arguing: "It needs new life".
David Kosoy, pictured, Sterling Global Financial's chairman, who was a panellist at a Securities Commission forum on public companies, when asked his thoughts on The Bahamas' stock exchange said. "It should be overhauled, period.
"It's not working; I believe it's not working. It needs need breath, new technology, new life. There are, I think, a lot of shareholders in there and it's very fragmented. To get anything new done there it's very difficult. I'm going to be the guy that says there's got to be huge changes there for it to be viable because right now it's useless."
Mr Kosoy's criticisms echo previous concerns expressed by the likes of financial analyst, Richard Coulson, who has argued that the low number of equity listings and thin trading volume are "not the sign of a productive exchange".
While BISX's creation 18 years ago was "a noble start", Mr Coulson said at an earlier Securities Commission forum: "Out of hundreds of [Bahamian] companies, only 20 of them have chosen to list their ordinary shares on BISX, the last one being Arawak Port Development five years ago. Since then, nothing.
"Out of those 20 companies, four of them struggle to survive. Many of them trade only once or twice a week, and days when there are no trades are frequent. That is not the sign of a productive stock exchange. Mr Coulson added that, by comparison, since 2009 some 30 companies have listed on Jamaica's junior market, a facility that BISX has long planned but been unable to create.
Keith Davies, BISX's chief executive, in a interview with Tribune Business last month pledged that the exchange would become "more proactive" in stimulating the market for specific stocks by expanding their trading "bands".
He told this newspaper that the exchange will now conduct monthly reviews to determine whether current restrictions - which limit daily movement in a listed stock to ten percent either side of the previous day's closing price - should be altered to encourage greater market activity.
Illiquidity, or lack of willingness by buyers and sellers to trade and interact, has plagued BISX and the wider Bahamian capital markets since the stock exchange's creation in 2000. Partly a function of the Bahamas' relatively small market size and exchange control regime, it also stems from the fact that most institutional investors tend to 'buy and hold' rather than engage in active trading.
The market's illiquidity also drove imposition of the '10 per cent' rule, which was intended to prevent wild fluctuations in stock prices caused by small retail investors exiting at values that did not reflect a company's fundamentals. Often, these trades involved just a few hundred shares, but caused "double digit" percentage declines in share prices well in excess of 10 percent.