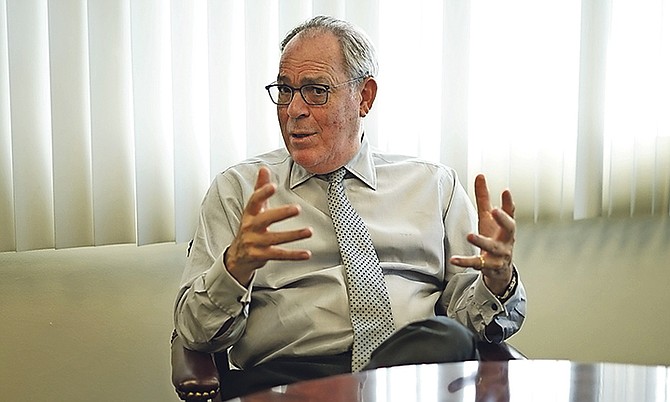 By AVA TURNQUEST
Tribune Chief Reporter
aturnquest@tribunemedia.net
IMMIGRATION Minister Brent Symonette yesterday suggested it was difficult to investigate claims of bribery with cash as he encouraged the public to utilise the Department of Immigration's new corruption unit.
Mr Symonette declined to comment on allegations against senior immigration officials contained in an FBI affidavit, telling reporters he would not comment on the matter because he had only seen an unsigned version of the document sent to him by a reporter.
However, he confirmed the department's corruption unit is "up and running" and staffed by officers from within the department and the police force.
"We are moving ahead full speed with a number of issues," he said.
"With the corruption unit, what we do need is Joe Public who knows of anything to report it, because unless to a certain extent we hear things on the street, we'll work with it.
"But these are people dealing with people in the back of nowhere with cash. It's difficult, so it will be dependent on the public calling in. And if they are nervous of calling the corruption unit, they can feel free to contact me directly."
Speaking to reporters outside Cabinet, Mr Symonette also said he hopes to have the department's backlog of work permit applications cleared by next month as migration to its new computer system continues.
Mr Symonette said officials will then turn their focus to citizenship and permanent residency files in the first quarter of 2019.
He said Cabinet has approved the hire of 20 workers exclusively for data entry programming as officials have encountered some 4,500 files with errors since migration began on September 9.
Five or six people are expected to start on Monday, he said. The backlog currently stands at 10,000 files, with 3,000 files representing incomplete applications that have languished in desks or on shelves at Hawkins Hill building.
"Many will have to reapply," he said, "for instance if no one's been to Immigration for the last year, from January 1, 2018, their file will be erased and they will have to reapply. It will still be in the system but it will be erased from that 10,000."