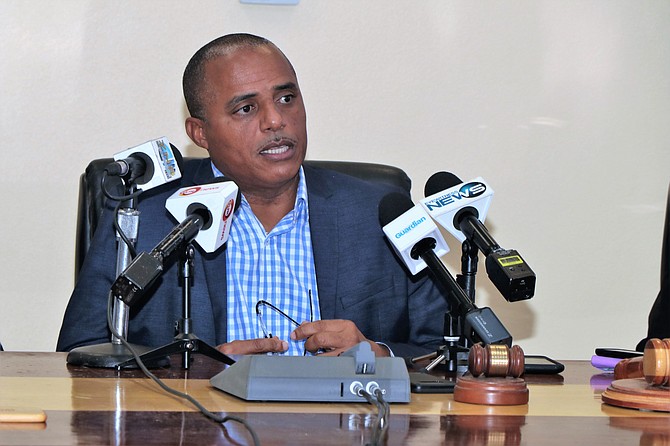 By AVA TURNQUEST
Tribune Chief Reporter
aturnquest@tribunemedia.net
NATIONAL Security Minister Marvin Dames told reporters yesterday the Federal Bureau of Investigation is expected to fully brief Police Commissioner Anthony Ferguson this week on the findings of its two-year undercover investigation into an alleged visa fraud at its Nassau Embassy.
He said local law enforcement will then make a determination on whether any Bahamian laws were broken, and take the necessary measures.
"We have had some initial discussions with the US," Mr Dames said before heading into a Cabinet meeting.
"The FBI is now working in consultation with the Royal Bahamas Police Force, who will receive a further briefing on the information they (the FBI) may have at their disposal, and we will determine from that information whether any laws in the Bahamas have been broken.
As things stand, Mr Dames said the government has no evidence at this time to support bribery claims made against senior immigration officials in an FBI agent's affidavit on the alleged local US visa scam.
He told reporters: "Now I want to be very careful, and I want you to understand me very clearly, alright? I'm not going to speak specifically to that matter. There are a number of, and I've seen it and I've heard it, a number of persons, a few who I know personally, whose name has been out there in social media and in the papers to date."
He continued: "We have no information, none whatsoever despite what may have been reported in the press, implicating any of these individuals and so I want to make that very clear."
The affidavit of special agent Kevin Gounaud details conversations the scam's alleged lead conspirator, Edward Israel Saintil, had with undercover FBI informants concerning his ability to obtain fraudulent Bahamian work permits to shore up US visa applications.
Saintil is alleged to have boasted of having relationships with top immigration officials, naming both current and former directors Clarence Russell and William Pratt, respectively.
Both senior officials have fully denied the claims. The affidavit also referenced by name another high-ranking immigration official who allegedly was paid a bribe to approve a work permit.
Saintil also reportedly alleged that immigration staff did not process work permits unless they are paid to do so, with bribe payments said to be thousands of dollars.
Mr Dames' comments followed assurances from Attorney General Carl Bethel, who broke his silence on the matter outside Cabinet yesterday.
Mr Bethel told reporters the due administration of law would be executed to ensure good governance.
The Attorney General said he received a copy of the FBI agent's sworn affidavit early last week, and immediately forwarded the court document to the police with instructions for it to be referred to its anti-corruption unit.
He cautioned the allegations against senior officials contained in the affidavit were unverified, and would have to be reviewed.
"We owe it both to the administration of justice and to these persons to have this matter reviewed so that if there is nothing that can substantiate it, that will be known, if there is some other problem well that will also be dealt with," Mr Bethel said,

"That is where we are, I just want to assure the Bahamian people that so far as the due administration of law is concerned, we are doing exactly what we need to do, to properly ensure that we have good governance in the Bahamas.
It is unclear when the government became aware of the two-year joint investigation by the FBI and the Department of State Office of the Inspector General (DOS-OIG), or its findings.
The shocking claims were first reported by The Tribune last week.
Outside Cabinet yesterday, Mr Dames stressed it was "nothing new," and the result of ongoing partnerships with US official, like OPBAT.
"We continue to work in joint matters on everything from drugs, to alien smuggling, to firearms trafficking," Mr Dames said.
"These are ongoing partnerships that we continue to have with countries around the world," he continued, "and as countries do their own investigations and the investigation reach a stage where they can affix charges and put people before the courts, and now they feel here is an opportunity we gotta now share what it is we have, whenever we have it. We do the same thing, this is no different if we are investigating something and then it leads into another country - we share."
Mr Dames said: "And we say here is what we have, you make a determination whether any of your laws have been broken and how can we work together jointly to ensure that we are able to bring those who are responsible wherever they may be to justice. That's how it works."
Ahead of its exclusive coverage, The Tribune sent a series of questions concerning the allegations contained in Mr Gounaud's affidavit to Press Secretary Anthony Newbold, Mr Bethel, Immigration Minister Brent Symonette, and Prime Minister Hubert Minnis.
Among those questions were inquiries about possible implications for intergovernmental relations; whether there had been any local coordination for any part of the undercover operation, and if not, whether that indicated a lack of trust.
Yesterday, Mr Bethel said: "As to the question of relations between states, that is a matter that firstly will find its expression in the relation between our Ministry of Foreign Affairs and the United States, and will also involve us ascertaining what the facts of the matter are, and exactly what may or may not have been done in the territorial boundary of The Commonwealth of The Bahamas.
"These things depend on the facts," Mr Bethel said, "we are seeking to ascertain them."
Dr Minnis said he could not comment on the allegations yesterday, citing an ongoing investigation.