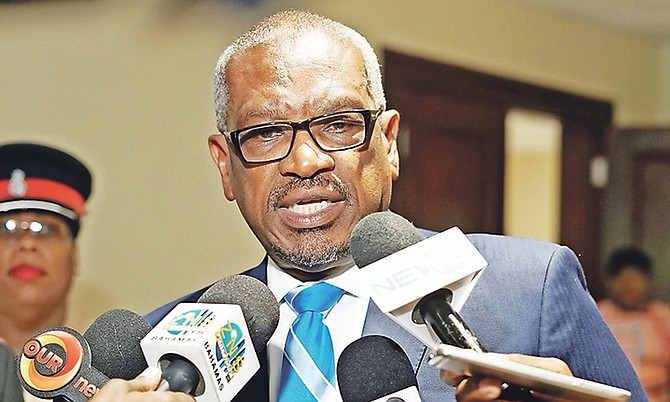 By MORGAN ADDERLEY
Tribune Staff Reporter
madderley@tribunemedia.net
PRIME Minister Dr Hubert Minnis yesterday extended his prayers to the family of Byron Ferguson, the pilot whose plane crashed into the waters of Nirvana Beach on Thursday night.  
Dr Minnis encouraged the family to always "live with hope" as the search for the missing pilot and aircraft continues. However, he said he could not comment on the family's critiques that relatives are dissatisfied with the way officials have conducted the search and rescue efforts for Mr Ferguson, as the investigation is continuing.  
Bahamas Air Accident Investigation Department Operations Investigator Kendal Dorsett Jr also confirmed yesterday evening that, contrary to previous reports from officials, Mr Ferguson did file a flight plan before leaving West Palm Beach airport for Nassau on Thursday.
He also said that Mr Ferguson was the sole occupant of the flight, contradicting initial reports from police. 
Regarding the circumstances that led to the crash, Tourism and Aviation Minister Dionisio D'Aguilar was asked by reporters yesterday to respond to the family's criticism that Mr Ferguson was unable to land on three Family Island airport runways due to a lack of lighting.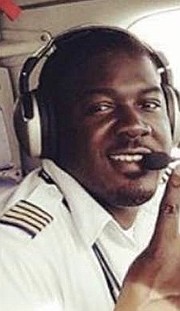 Mr D'Aguilar said he was informed by his predecessor that all 28 government airports have emergency lighting. However, he couldn't confirm whether all the lights at each airport are working.  
For night-time emergencies, Mr D'Aguilar said Air Traffic Control has to reach out to the person on the island who is responsible for turning on the lights, and have them travel to the airport and do so. He added at this time, he doubts this "modus operandi" will change, as staffing someone to be at remote airports 24/7 is a "very expensive proposition".  
Both Dr Minnis and Mr D'Aguilar spoke with reporters following a tour of the new Fusion Superplex entertainment facility.   
For his part, regarding the accident, Dr Minnis encouraged the family to have hope. 
"I'm sorry such an incident (occurred) and I would not want to say that individual is presently not alive," Dr Minnis began. "You know, you always live with hope. So I would hope that the family would themselves live with hope and I hope everything works out for them. But my prayer would always be with them that everything works out well for them." 
When asked to respond to their criticisms, Dr Minnis said: "I would not want to comment on the investigation. It's an ongoing procedure and I would not want to comment on it at this time."  
Airport issues
During a family press conference on Sunday, Mr Ferguson's brother Bjorn Ferguson expressed his frustration that the pilot had to pass three runways - Chub Cay, Great Harbour Cay, and San Andros - and was reportedly unable to land because the runways were not lit.  
When asked about this matter yesterday, Mr D'Aguilar said the protocol for emergency landings at smaller airports is for the pilot to advise the airport that he is having issues in-flight. Mr D'Aguilar said he was aware that Mr Ferguson informed Air Traffic Control of his difficulties, but "unfortunately he didn't make it."  
While Mr D'Aguilar said he was "initially advised" that Mr Ferguson did not file a flight plan, Mr Dorsett confirmed yesterday that one was filed. 
When asked about the lighting issue at Family Island airports, Mr D'Aguilar said: "Well there are 28 airports. So forgive me if I don't know if every single one of them has not only lights, but all the lights are working. 
"I remember being informed by my predecessor that every single airport had emergency lighting. Now I have found in my time...being in this ministry that there are sometimes you go to an airport and some of the lights are not working. So, I think all of them have been equipped, whether they're all 100 percent working, I'll have to get a report on that." 
When asked if the Minnis administration will change existing protocol so that someone is always staffed at airports moving forward, in the case of emergencies, Mr D'Aguilar said "not at this time." 
"I don't think that we're going to change the modus operandi," he continued. "Obviously there are a lot of remote airports and to equip and staff these people 24 hours a day, seven days a week is a significant cost that - obviously there's going to be, and I don't want to belittle this situation and I don't want to think that it isn't important – but I'm sure this problem arises so infrequently that there obviously is a cost-benefit relationship that we need to take into consideration. 
"There are many, many airports in the Bahamas and it's a very, very expensive proposition. So right now we're going to maintain the status quo." 
Minister of National Security Marvin Dames also responded to criticisms that no attempts were made to secure or track Mr Ferguson's aircraft on first sight, before it disappeared into the ocean.  
"When they (responders) were approaching, a little piece of the aircraft could have been seen," Mr Dames said. "As they got closer, the aircraft disappeared. So we have to be extremely careful when we say 'aircraft', we give the impression that here's this big aircraft that they saw lying on the water. That is not so. 
"And so we have to leave it up to the search team and the investigators to let them do their jobs and not muddle what they're doing with the non-factual information. 
"This is sensitive, and as I speak to you, the only thing I'm thinking about is the family and what they're going through. And me having to be very careful as to what I say so as to not to further exacerbate a very, very, very, sensitive situation.  
"Our hearts go out to the family. I know a few of them and will continue to do whatever we can to ensure that we work to bring some closer to this matter."