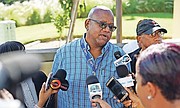 By MORGAN ADDERLEY
Tribune Staff Reporter
madderley@tribunemedia.net
BAHAMAS Electrical Workers Union President Paul Maynard yesterday said if light bills were "half" of what they are, The Bahamas would have a "new economy".
Speaking during a meeting of the Rotary Club of South East Nassau, Mr Maynard called for the public to pressure the Minnis administration to push electricity reform forward by switching from automatic diesel oil (ADO) to cheaper forms of energy, such as liquefied natural gas (LNG) and renewable energy.

Last week, Bahamas Power & Light (BPL) Chairman Dr Donovan Moxey confirmed that the state-owned utility's fuel charge is currently 19.5 cents per kilowatt hour (KWh), with Bahamian households and businesses paying an all-in tariff of around 40 cents per KWh.

Mr Maynard said such high electricity costs signal a country in "crisis", adding he is "distressed" by the fact that small businesses and the poor are "suffering under the strain of the light bill."

"I've said to minister after minister, just think: if the light bill was just half of what it was, this would be a new economy," Mr Maynard said. "It absolutely and totally must happen.
"Now, BEC are making missteps, because they have Aggreko…I'm really against Aggreko, because Aggreko are using ADO… So right now, BEC is using 90 percent diesel oil. Thus, your fuel surcharge."

Mr Maynard said the fuel surcharge has been increasing "every month since April". Regarding this, he said: "The public needs to put as much pressure on the government as possible."
Mr Maynard also criticised the 2022 target goal for a Shell plant, as outlined via the signing of a memorandum of understanding between BPL and Shell North America for an integrated LNG gas-to-power project.
"You can't wait for that," Mr Maynard said. "This economy will tank before then."
Mr Maynard claimed he has told officials, including the prime minister: "Shell is now your partner. Shell is the largest distributor of propane and LNG in the world. You need to say to Shell, 'we are in a crisis'.
"And we are in a crisis. Anytime you have in a country where you have mothers deciding (between) feeding their children and paying their electricity bill, that is a crisis…We have women prostituting themselves to make this light bill. And that is terrible.
"Everyone needs to get involved and we need to push back on the special interest groups and we need to push this electricity reform possible. Because our very life and our livelihood in this country depends on it."
Mr Maynard added neighbouring countries such as Jamaica, Barbados, and the Dominican Republic all use LNG -- noting this makes them more attractive to investors due to cheaper costs.

"At Baker's Bay, they're getting ready to put a LNG plant at Baker's Bay in Abaco," Mr Maynard continued. "Because the world's billionaires decided they're not going to pay BEC's bill anymore. They're going to go ahead and put their own stuff in."
Calling for the government to consider alternative forms of energy, Mr Maynard suggested wind energy could be suitable for islands on the Atlantic coast, such as Eleuthera and Abaco.

He also underscored the benefits of solar energy.
"Yes, (solar energy) does need a lot of land. But we have national parks. We could put the solar around the national parks. Lake Cunningham, Lake Killarney. You could put solar panels around the edge and blend it in with the environment. It's innovative ways that we could use to do these things. But we need to be innovative."
Mr Maynard estimated the Shell negotiations should be completed within three or four months. He added under that form of electricity, LNG, electricity bills should decrease to 17 cents per KWh.