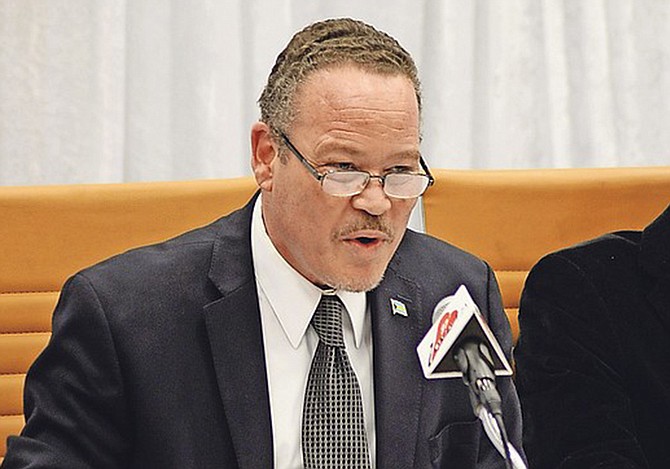 By KHRISNA RUSSELL
Deputy Chief Reporter
krussell@tribunemedia.net
ATTORNEY General Carl Bethel criticised the response of the Royal Bahamas Defence Force to the recent plane crash suggesting the tragedy may not have been "properly" investigated because of how quickly the initial search was called off.
His comments in the Senate came shortly before a group of Bahamians said yesterday that their own search team had found pieces of the plane piloted by Mr Ferguson.
Mr Bethel said he would reach out to his colleagues to ensure that whatever "procedural missteps" occurred in this case and others would not happen again.
More must be done, he said, to ensure there is a sense of urgency and to drive home the principle of "no stone left unturned" when the country is faced with tragic plane crashes.
Mr Bethel joined fellow Senators Fred Mitchell and Ranard Henfield to voice concerns over the handling of the search and investigation of Mr Ferguson's plane crash.
"The great difficulty right now, particularly with anything that results in a marine landing of some sort, is that the Civil Aviation Department has to rely on the efforts of another agency, usually the Royal Bahamas Defence Force. So in the last crash that occurred off of Andros, as I understand it, the search was called off maybe 50 yards away or so because of inclement weather or something, or it had gone on too long and the fellas got tired," Mr Bethel said yesterday.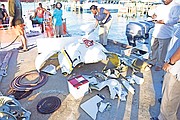 "See the difficulty is, because it's on the marine side, then an unmotivated entity, an entity that is not sensitised to that particular job – see it may be sensitised to catching smugglers, catching human traffickers, catching poachers (and) defence and so for this aspect of civil intervention into some crisis, perhaps there is a need for stronger sensitisation of the marine unit of the Royal Bahamas Defence Force to ensure that the sense of urgency that the family feels is also shared by those who are in the immediate vicinity and that the principle of no stone left unturned until we find this thing must prevail, because this is the second time now and I am only going based on what I heard.
"They saw a piece of wreckage. They say they left the site. It boggles the mind if that is so. It is unimaginable."
He continued: "And so if I feel that way about something like this, if my colleagues opposite here who sit beside me and if we feel as a body like that about a circumstance like that, how much worse does the family feel?
"So we have to spend some time with our colleagues, and I don't believe there is any ill will or any malice or whatever, but we have to work with our marines. We have to work with our Defence Force to get them to see that, yes even if it's only in finding a crash site that is as important to the defence of the well-being of the Bahamian people, defending our well-being because how can we prevent such things happening unless we properly investigate each and every one? How can we show our true concern for the human beings involved if we call off the search on the slightest pretence? It cannot be the situation. It cannot happen.
"And so I certainly in my position will reach out as quickly as is possible to my colleagues to see that whatever the error, whatever the procedural missteps . . .what may have happened in the past, that this will never ever, ever, ever be repeated again because plainly the damage being done to families and to the psyche of this nation by these things is simply unacceptable."
Questions
For his part, Senator Henfield questioned the country's lack of rescue helicopters given the Bahamas' makeup and the frequency of crashes in these waters.
He also regretted that there is no legislation to govern crowd-funding in instances where money is needed to support rescue efforts.
He said: "A mutual friend of Byron yesterday, who is still in shock, indicated to me that the wife with a 10-month-old child is still walking up and down that beach, and the beaches, not eating and just asking people to help me look in the bushes, look over there, check that sand and all of our hearts break. But you know it is unfortunate we live in a country in a day like today where we have mega resorts, but we don't have our own rescue helicopters in this country.
"We live in a country where we don't have legislation in place for crowd-funding. I would watch in other countries and incidents would happen, persons are able to donate in the millions to the search and rescue of persons rather than just sit and wait for the government's response."
Opposition Senator Fred Mitchell added there was a need to beef up communication efforts between search agencies and families affected.
"I know this young man very well, his wife, his family, his brothers, his father, his mother and they all live in the Fox Hill constituency, but quite apart from that, I want to join in the concerns about how this accident was dealt with," Mr Mitchell said. "I said to a family when there is a homicide in this country the police have a designated person that's assigned to coordinate with the family what the police are doing.
"So they give you a telephone number and they give you a name and they say if there is anything you want to know about that investigation you call that person and that person will tell you what is happening with the investigation. Now that does not seem to apply in this case. Civil Aviation is the body I believe that's responsible for the investigation. The issue they were talking about is how do I get information and are the officials speaking with one voice. It must be heart wrenching."