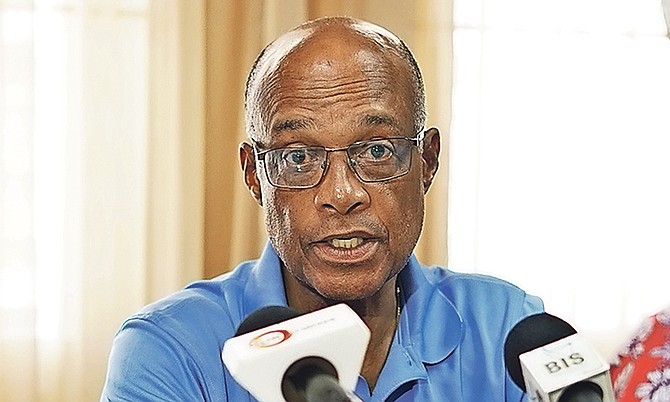 By RIEL MAJOR
EDUCATION Minister Jeff Lloyd said teachers and students returned to CH Reeves Junior High School on Tuesday after a two-week sit out was conducted by teachers.
The minister said: "I'm happy to tell you that teachers returned to the classroom on Tuesday."
Last week, Mr Lloyd said the Ministry of Education requested the assistance of Anthony Ryan of the Environmental Monitoring Risk Assessment Division in the Department of Environmental Health, who assessed the school's affected classrooms, finding what he described as recognised environmental concerns, including dust and accumulated dirt.
He subsequently formulated a prescription to rectify those issues, Mr Lloyd said, adding that a contractor was immediately hired to conduct the remediation process.
This included the removal of mildew, the cleaning of dust on ceiling beams, and the cleaning of air-conditioning units, window sills and elsewhere. Other contractors effected repairs to a leaky roof and to faulty toilets in one of the female students' bathrooms, the minister said.
On Friday, November 2, teachers had refused to work despite the fact that a new classroom schedule was constructed by administrators that accommodated all classes.
This led to a second round of environmental tests where mould was discovered in multiple classes.
Mr Lloyd said: "There is a presence of mould (and) the teachers unfortunately were placed in a situation that is obviously and injurious potentially injurious to their health and that is regrettable and that's not something we are proud of and we have remedied it."
The minister said the mould infected classrooms were removed from the inventory and sufficient classrooms are available to continue with the educational process. He also confirmed that a new unused building consisting of 12 classrooms is ready for occupancy and the ministry is only waiting for an occupancy certificate.
"I spoke on (Tuesday morning) with the Minister of Works Desmond Bannister who assured me that within a day or two, whatever is required, and I think it is an electrical issue will be satisfied, done so that an occupancy certificate can be hand delivered to the school," Mr Lloyd said. "And those 12 classrooms can be used."