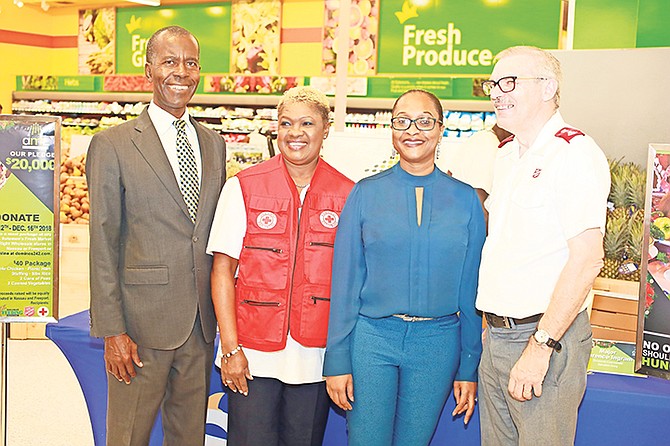 By RIEL MAJOR
AML Foods Limited held a press conference yesterday to launch its third annual "Feed 5,000 Families" holiday give back initiative and to appeal to the general public to support the cause.
AML Foods Limited joined with representatives of the Bahamas Feeding Network, the Bahamas Red Cross and the Salvation Army to assist with the distribution of meals to families in need in the community.
Renea Bastian, VP of marketing and communications AML Foods Limited, said this is an effort to help fight the pain of hunger in our community and the company will kick off the donations by contributing $20,000 towards the holiday giveback initiative.

"Our goal is to raise $100,000 and to distribute 2,500 Christmas meals packages which can feed a family of four," she said." This will equate to helping more than 10,000 persons, who otherwise would not be able to enjoy a holiday meal."
AML Foods Limited is appealing to the general public to purchase or donate toward the purchase of a Christmas dinner package valued at $40 available at Solomon's Fresh Market, Solomon's in Harbour Bay, Old Fort Bay, Yamacraw, and Cost Right Wholesale in Nassau and in Freeport at Solomon's Lucaya, Queens Highway and Cost Right Wholesale. The initiative began November 12 and runs until December 16.
Phillip Smith, executive director of Bahamas Feeding Network, said: "(Families) will receive a parcel of food which contains a picnic ham, whole chicken, five-pound bag of rice, four cans of good and a box of stuffing. I want to thank AML for such an amazing initiative and so we are very happy to be a part of this."
Donations can also be made online at Dominoes242.com and AML Foods will match all online donations up to $5,000, increasing the company's overall donation to $25,000.
Christmas dinner packages will be distributed on December 19 in Nassau and on December 20 in Freeport.