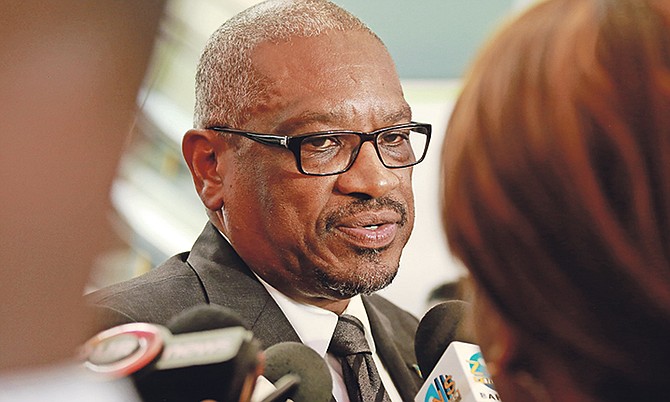 By RICARDO WELLS
Tribune Staff Reporter
rwells@tribunemedia.net
OVER-the-Hill constituencies of Bain and Grants Town and Centreville are now tax-free zones, according to Prime Minister Dr Hubert Minnis, who said the government's flagship initiative took effect November 1.
Dr Minnis revealed these areas have, for the past few weeks, been operating as tax-free zones as laid out in his administration's Economic Empowerment Zone Act during remarks at the grand opening of the Edmund Moxey Youth Centre on Thursday.
When asked earlier this month, the initiative's executive manager, Samita Ferguson told The Tribune the designated tax exemption zone would come into effect before year's end.
"Effective the first of November, just a few weeks ago, areas in the over-the-hill community had been declared a tax free zone," said Dr Minnis, whose news was greeted with resounding cheers. "And that is to be expanded to St Barnabas, Englerston and other impoverished areas," he added.
Dr Minnis reiterated his administration's commitment to improving the quality of life and expanding opportunities for residents in over-the-hill communities, and flagged the $5m to be earmarked annually for small business development as part of its small business and entrepreneur programme.
He said $250,000 has been earmarked specifically for grants for impoverished areas. "That is, this is money to be given to you, and not to give me back," he told the crowd.
The Economic Empowerment Zone Bill was passed in the House of Assembly in late July after two days of debate.
Dr Minnis, who wrapped up the debate, said at the time that the legislation "will set the stage for the improved quality of lives of residents in Over-the-Hill" communities.
The bill laid the legislative framework for several economic growth initiatives.
Businesses in the over-the-hill area earning $5m in revenue or less may apply to the Ministry of Finance to receive a trade certificate.
This certificate will allow for a waiver of business licence fees. It will also allow businesses that may require a vehicle for their operations to import one vehicle and pay no customs duties or other taxes on the vehicle.
Upon application, requirements such as the clear marking of the vehicle and any other conditions will be outlined. The concessions under the bill will not extend to places that primarily sell alcohol or offer gaming.
Despite these exemptions, however, residents of Bain & Grants Town and Centreville who spoke to The Tribune earlier this month remain largely unaware of the initiative's benefits and were doubtful whether the programme could bring about real change in their communities.