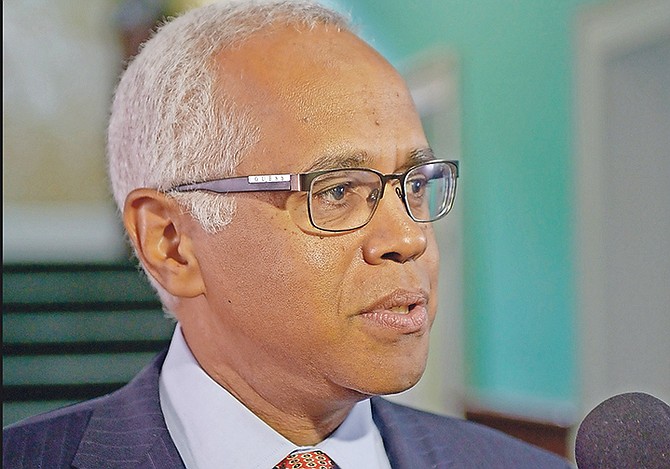 By RASHAD ROLLE
Tribune Staff Reporter
rrolle@tribunemedia.net
TOURISM and Aviation Minister Dionisio D'Aguilar defended the administration's hiring of former National Insurance Board Director Algernon Cargill yesterday, saying the government needs an expert who can help spearhead key aviation initiatives.
Cargill's recruitment has raised questions because he was fired from the NIB in 2013 following a forensic audit by Grant Thornton which determined that bonuses appeared to have been improperly paid to him and contracts that were awarded for various projects featured irregularities.
Although the Minnis administration has treated forensic audits as definitive and has rebuffed criticisms of their findings this term, Mr D'Aguilar suggested Grant Thornton's audit, which cost taxypayers $861,000, contained flawed assessments.
"One of the issues the audit raised was the payment of bonuses and the other was the renting of this apartment from an entity in which he was a director," he said.
"As it relates to the payment of the bonuses, he has always contended and as was supported by the chairman at the time, that bonuses were approved by the Human Resources committee chairman who was also the chairman of NIB and not only did he get a bonus but a number of other people got a bonus as well. Really, it's almost impossible for a managing director to authorize bonuses given the controls in place at the National Insurance Board.
"Secondly, he had always contended - and I believe it was being concurred - that the apartment that was leased when it was drawn, the exercise was initiated without his knowledge and approval and when it was brought to his approval he immediately, in the presence of other national insurance employees or directors, called the chairman and advised him of the conflict and the chairman I'm led to believe didn't find fault with that and proceeded forth.
"I don't think he ever did anything that was underhanded. I just think he was a victim of political victimization at the end of the day."
Mr D'Aguilar declined to say how much Mr Cargill is being paid, saying he does not believe it is proper to disclose such information. However, last year he disclosed the salary of a former government tourism consultant in the House of Assembly - without revealing the person's identity - as being paid over $400,000 a year. He was referring to Ian Poitier, a Bahamian engaged in the creative arts.
Last year, Prime Minister Dr Hubert Minnis criticized how much some consultants were paid in the Christie administration. In the House of Assembly he tabled 2015 and 2017 contracts for Sir Baltron Bethel, a former advisor in the Office fo the Prime Minister, revealing that Sir Baltron had his contract extended two weeks before the May 10 general election and his salary increased from $140,000 to $200,000. He also tabled contracts of V Theresa Burrows and Cecile Williams-Bethel, two consultants of the NIB who made $125,000 each.
Regarding Mr Cargill's salary, Mr D'Aguilar said cabinet approved the hire, and "if someone else wants to say how much he is being paid they could."
Mr D'Aguilar emphasized Mr Cargill's experience and qualifications for his current role.
"He has rolled out some pretty significant programmes that required expertise over the years," he said.
"This was a very measured decision that we feel will be beneficial to our goals in aviation. He ran the NIB for a number of years, he was the one responsible for rolling out the minimum wage, the unemployment benefit, the prescription drug benefit, these were new programmes rolled out under the FNM and required lots of management expertise and drive to get these goals accomplished. We want to bring that focus and management skills to aviation. We wanted someone who was available but who had the necessary management expertise to get some of our goals accomplished in the aviation sector. I needed help. I needed someone with private sector experience, and he also ran Chevron for the Caribbean, he also worked for CIBC as a branch management if you go further back, so he obviously has the experience."
Explaining the challenges he faces in the aviation sector, Mr D'Aguilar said the government's ambitious plans include constructing a new airport in Exuma and North Eleuthera and acting on the findings of a study that called for improvements to many Family Island airports.
"The airports are extremely capital intensive, that will probably require some kind of public private partnership," he said.
"When you consider public private partnerships in the construction and management of airports that requires a lot of ground work, a lot of leg work in terms of delineating where these airports fit, the legal description of these airports, the putting together of request for proposals. All of that requires a lot of work.
"What I found when I got into government was that there was no ministry of aviation. When I asked where is the ministry of aviation, I was told that myself and the permeant secretary were it. There are eight specific silos within the aviation sector, the Airport Authority, NAD, Civil Aviation Authority, Nassau Flight Services, Air Transport Advisory, Bahamasair, the Bahamas Air Navigation Services Department, there's the Air Accident Investigation Department, all of these silos require some oversight and really there is no one there to do that at the ministry level except myself and the permanent secretary.
"I wanted to create a department of aviation to manage all of these silos so we could all be on a common path and then you throw in the construction of the airports which requires a lot of management, that requires a certain skill that's hard to find in the particular ministries. We have the development of the aircraft registry, we have the negotiation of the overflight fees and all of this is really requiring myself and my permanent secretary to drive it. We've requested permission to form a department of aviation and while that permission has been granted, it won't take place until the next budget year."