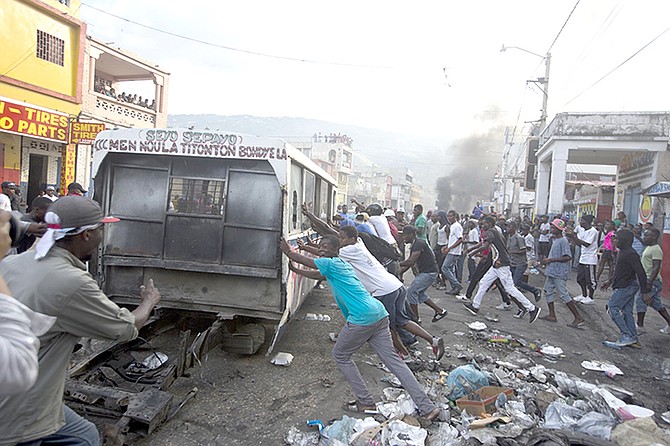 By KHRISNA RUSSELL
Deputy Chief Reporter
krussell@tribunemedia.net
RIOTS and a United Nations enforced curfew in Haiti have prompted the closure of the Bahamas Embassy in Port-au-Prince until further notice.
In line with United Nations protocols, Foreign Affairs Minister Darren Henfield said officials closed the embassy and are continuing to be vigilant in monitoring the situation.
He said Monday marked the first day of the embassy's closure and came as Bahamasair suspended a flight scheduled for Cap-Haitien yesterday morning.
Travel
The national airline requested that passengers booked on that flight contact the airline for recommendations on their travel arrangements. In a statement, the airline said it will continue to monitor the situation closely and liaise with the Ministry of Foreign Affairs for further updates.
Activist Louby Georges told The Tribune it was possible some Haitians with ties to the Bahamas could be stranded there as the civil unrest continues and flights have been suspended.
"Like most missions in Haiti the Bahamas follows the protocols of the United Nations missions to Haiti," Mr Henfield told reporters yesterday outside Cabinet.
"They asserted on the weekend that there was likely to be unrest and following that protocol and after speaking with the ambassador and our personnel on the ground we determined to close the mission yesterday and today I think.
"We are always very vigilant about how we treat this."
Later the ministry released a statement saying its decision also came after consultation with security personnel.
It read: "Due to continuing unrest in Haiti, the Ministry of Foreign Affairs wishes to advise members of the public that the Embassy of the Bahamas in Port-au-Prince will be closed until further notice. This action was taken after consultation with the ambassador of the Bahamas to Haiti and security personnel in Haiti.
"Security directives have been issued by the United Nations (UN) Mission in Haiti – MINUJUSTH – implementing a curfew from 2200 hours (10pm) to 0500 hours (5am) until further notice.
"It is the policy of the Bahamas in situations such as this to act in conjunction with the diplomatic community, and the UN if present in the jurisdiction.
"All staff of the Bahamas Embassy are safe. The ministry continues to monitor the situation and will provide updates on new developments as they arise," the statement continued.
For his part, Mr Georges explained this week's unrest in Haiti was a continuation of riots there in September amid questions over the Venezuelan subsidised energy programme – Petrocarib.
Demonstrators were calling for the president to resign for not investigating allegations of corruption in the previous government over the Venezuelan subsidised energy programme.
As of yesterday, six people were said to have died during the violent protests.