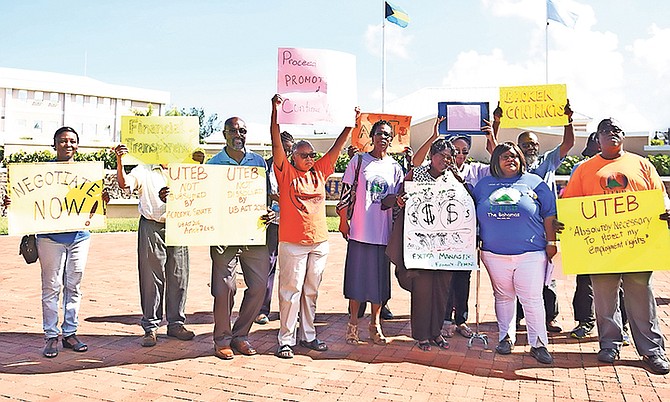 By MORGAN ADDERLEY
Tribune Staff Reporter
madderley@tribunemedia.net
AS scores of protesters demonstrated in downtown Nassau against the Minnis administration, a smaller demonstration was occurring on the campus of the University of The Bahamas as the Union of Tertiary Educators of The Bahamas posited a litany of complaints against the institution — chief of which is UB's failure to negotiate a new industrial agreement.
Other major sources of discontent include delays in promotions, violations in faculty overload payment, and "union-busting".
When asked if UTEB will take industrial action, membership secretary Erecia Hepburn was coy, but said university administrators have been given a timeline of until December 7 – after which it will be decided if industrial action will take place.

Ms Hepburn told reporters yesterday that UTEB's biggest issue with UB is the "lack of negotiations."

"We went to the Labour Board together as a collective," she said. "UB did not bother to show up. They sent their legal counsel, which of course I assume infuriated the Labour Board. But…everybody knows you can negotiate better than the (Industrial Relations) Act. That's the whole purpose of having a union. So, we want them to come to the table and actually negotiate with us."


When asked if failure to meet these demands will result in a strike or shutdown, Ms Hepburn replied: "Well, let's hope people get their grades. That's all I could say. We could hope.
"(UB has) a timeline and hopefully, with all of you people here, they will see the news, we could get people to actually come to the table. And come to the table in good faith. I don't need somebody coming to the table thinking they're a dictatorship. The only dictator I have is the Lord. So everybody else has to come and understand this is a democracy."
Regarding the timeline, she added: "Everybody knows this is the end of the semester. So they have I guess until December 7."
Ms Hepburn added UTEB has filed a number of trade disputes dating back to 2016.
In a press release, UTEB provided further background for its issues with the institution.
"The administration continues to flout the laws, policies and practices applying to the institution and has declared openly that the signed and registered industrial agreement, 2012-2017, which they intentionally failed to renegotiate has expired (or) is no longer binding on UB," the union claimed.

"Negotiations for a new industrial agreement began eight months late on February 19, 2018 and were suspended by UTEB on June 20, 2018, in an attempt to get a legal interpretation when the university refused to negotiate in good faith."
The union provided reporters with 21 complaints. In addition to lack of negotiations, it blasted the university for "indefensible delays in effecting timely promotions exercises," which have caused a "backlog of nine years of faculty advancement."

According to UTEB, the most recent promotions exercise was for the 2010-2011 academic year, adding UB "refuses to conduct another exercise," leading to employees being demoralised.

Another major issue is "violations in faculty overload payment." The union alleges the university has failed to pay a faculty member who taught more than the full load of classes.
UTEB also said faculty contracts have been terminated "without just cause" and alleged UB has terminated faculty salaries "without cause or compensation."
The union also alleged executive officers have experienced "several instances of intimidation."
Other issues include two years of being excluded from representation on search committees, placing a faculty member on paid leave "without just cause," undermining the union through "anti-union activities," "dereliction of fiduciary activities," and delays in revising insurance proposals.