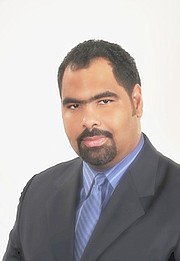 By NEIL HARTNELL
Tribune Business Editor
nhartnell@tribunemedia.net
A top accountant yesterday argued that the Government's explanation for the $105m deficit overshoot was "not the complete picture", and raised fears there may be more bad news ahead.
Gowon Bowe, pictured, the Bahamas Institute of Chartered Accountants (BICA) president, told Tribune Business that many observers would likely be sceptical that the Ministry of Finance was unaware of other government agencies' spending trends when its gave its projected deficit outcome for the 2017-2018 fiscal year in May.
KP Turnquest, the deputy prime minister, in unveiling the 2018-2019 budget had forecast that the prior year deficit would come in at $310m. However, the Government's first-ever fiscal strategy report, tabled in the House of Assembly on Wednesday, revealed that the actual deficit was $414.9m - almost $105m, or 33.8 percent, higher than projected.
Marlon Johnson, the Ministry of Finance's financial secretary, blamed a late spending "ramp up" by government departments and agencies trying to ensure bills were not "carried over" into the 2018-2019 fiscal year as the cause of the overshoot.
Mr Bowe, though, challenged this explanation given that the Government had made much of the multi-million dollar unfunded arrears it had inherited from the former Christie administration.
He said the Government had also moved to a "modified" cash financial reporting basis that required it to account for spending commitments when they were made, thus providing a more complete picture of its financial position.
Suggesting there were likely other factors involved in the deficit overshoot, Mr Bowe questioned whether it meant some departments and agencies had exceeded their 2017-2018 Budget allocations without permission.
"I don't think persons would readily accept that he [Mr Turnquest] was not aware of the expenditure that departments would have been doing," the BICA president told Tribune Business.
"In reality, it means they exceeded their Budget allocations without asking, or there was a known reason for why they exceeded them.
"The argument that they were paying bills to avoid moving them into next year's Budget is not the complete picture, because it has already been said that they inherited a number of obligations from previous years and indicated they were moving to a modified cash basis of accounting."
Mr Bowe, who headed the Chamber of Commerce's Coalition for Responsible Taxation (CRT) at the time Value-Added Tax (VAT) was first implemented in January 2015, said the scale of the 2017-2018 deficit overshoot - compared to both Mr Turnquest's May forecast and the initial $320m projection - would likely attract the credit rating agencies' attention.
"The fundamental question is going to be: How much more is yet to come? That will be the question from external observers: Is there any further negative performance to come?" he told Tribune Business.
Standard & Poor's (S&P), which downgraded the Bahamas to 'junk' status at Christmas 2016, is currently completing its annual analysis of this country's sovereign creditworthiness that will be released before year-end. Any further ratings actions will likely accompany its release.
Its fellow rating agency, Moody's, has maintained The Bahamas' investment grade status - albeit one notch above 'junk' - and has given this nation around 18 months to show it is making headway in putting its fiscal house in order.
Moody's did, though, recently praise the Government's launch of quarterly fiscal reporting as a move that will help regain lost "policy credibility" for the Government. It added that enhanced fiscal transparency and reporting will help restore confidence among global investors who were rattled by the Minnis administration's prior revelation of $760m in unfunded spending arrears.
Mr Bowe echoed similar sentiments over the Fiscal Strategy Report, describing its publication as another step towards moving The Bahamas "to 21st century financial reporting".
"This is another rung on the ladder in terms of stepping up," he told Tribune Business. "You look at the quarterly reporting, and now the medium-term strategy in terms of setting out a review of what happened in the actual numbers.
"It's certainly moving us to financial reporting that's 21st century. You're setting a precedent you can't really turn back from and that's a positive. You gain that level of transparency, that level of information. The only thing people will expect going forward is enhancement and a demonstration of continued commitment to the Fiscal Responsibility Act."
The Fiscal Strategy Report must be tabled in Parliament by the third Wednesday in November as part of complying with the newly-passed Act, which is designed to usher in greater transparency and accountability over the Government's management of the public's tax dollars.
Mr Bowe said the analysis of prior year fiscal performance, coupled with Budget projections going out three years, will create "improved budgeting" by enabling the Bahamian people to measure forecasts against actual performance.
Budgets can now be assessed for their credibility, and the BICA president added: "It's [the Fiscal Strategy Report] certainly presented in a more readable form than the Budget in May. It certainly allows some flavour and reasoning behind what is the thinking of the Government, and is open to criticism - both positive and negative."