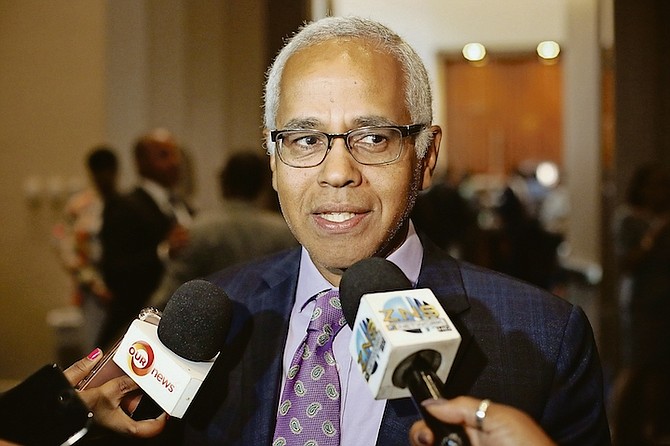 By MORGAN ADDERLEY
Tribune Staff Reporter
madderley@tribunemedia.net
TOURISM and Aviation Minister Dionisio D'Aguilar on Friday declared 2018 "a banner year for tourism" in the Bahamas, noting the tremendous growth the sector has experienced and speaking about the positive expectations for the months ahead.
During the ministry's "End of Year" press conference held Friday, Mr D'Aguilar pointed to air service, hotel development, and marketing efforts as key elements that have all contributed to the industry's growth.
He also noted bookings for the next three months are ahead by over nine per cent.
Ministry Director General Joy Jibrilu also spoke at Friday's press conference, outlining the ministry's approach to branding and marketing which have contributed to this upward growth.
"While 2017 was certainly a challenging year with back-to-back hurricanes that hurt the Caribbean, 2018 has been a banner year for tourism in The Bahamas," Mr D'Aguilar said. "Since October 2017, we have seen a healthy, upward trend in international arrivals and this has continued in 2018."
The tourism minister said air arrivals to the Bahamas have been trending upwards since the final quarter of 2017 and have been "consistently up" by 15 per cent since May. Sea arrivals have grown by two per cent, while stopover visitor arrivals are up from "all of the major markets". Canada, in particular, had a 12 per cent increase – making it "by far" the best performing market of the year.
"The U.S. continues to be the leading source market by sheer volume; arrivals were up by a healthy seven per cent," he continued, adding this is partly due to new and expanded airlift from major US airlines such as Delta and American Airlines; which have strengthened connections in key states.
"The booking situation for the next three months, November to January, is ahead by 9.2 per cent. International markets show an advance in bookings; scheduled direct flights are set to increase 15.1% from November to January."
Mr D'Aguilar also noted forward bookings for those months are ahead by seven per cent.
However, he said the seat capacity of European routes is scheduled to decrease by -15.5 per cent during the winter season, November through April, "due to the interruption of the route from Frankfurt operated by Condor, which represented 15 per cent of total capacity from European airports" last winter.
Hotels have also experienced and contributed to this growth.
"In October, Expedia reported greater than 30 percent increase in room night sales and hotel gross bookings also increased by greater than 25 percent year-over-year from January through October," Mr D'Aguilar said.
"New and revitalized product is helping to drive tourism growth. Atlantis, Paradise Island has debuted a fresh, new brand and renovations reconnecting with its Bahamian roots. Baha Mar is now fully open, with three distinct properties welcoming visitors, and business is strong."
Marketing also played a significant role in the tourism sector's growth this year.
"The goal was to decommercialise the way the Bahamas had been presented in the past, and to present a deeper insight of the culture, authentic and enriching experiences of the Bahamas, and to show the warmth of the Bahamian people," Ms Jibrilu said.
Mr D'Aguilar said the ministry employed a "robust marketing programme". This has included participating in media blitzes in Toronto, New York, and China.
The Chinese sales mission occurred October 29 - November 2nd. Led by Mr D'Aguilar, industry partners included senior team members from Atlantis Resort, Baha Mar, Majestic Holidays and The Pointe.
The trip's objection was to increase visitor arrivals from China, and Mr D'Aguilar said face-to-face meetings with travel industry and media professionals allowed the party to learn "exactly what is required to truly attract more Chinese visitors".
The fact that the country is visa free for Chinese citizens who visit for up to 30 days is also a "tremendous selling proposition".
"We consistently heard that our potential Chinese visitors will primarily be interested in high-end resorts, destination weddings, honeymoons," Mr D'Aguilar said, adding the ministry is "now better equipped" to target this market.
The tourism minister also discussed the plans to build upon this growth in the year ahead.
This includes revitalizing the historic architecture of downtown Nassau, along with creating new dining and entertainment options, and continued development of The Pointe.
In Freeport, the government's recent purchase of the Grand Lucayan resort with the intent of selling it to contribute positively to that island's economic growth is a major aspect of development plans for that island.
Ms Jibrilu also spoke to the importance of marketing the Bahamas' major sixteen island destinations individually, and the role of a variety of tools– ranging from social media influencers to video vignettes featuring Bahamians "(telling) their own (stories)" to adverts world over – that contribute to this promotion."

Mr D'Aguilar specifically pointed to new boutique properties and eco-friendly resorts on Harbour Island and Exuma and noted "we eagerly await the development of a new, five-star resort eco-resort planned for Long Island."
Ms Jibrilu said other things to look forward to are the launch of the official Bahamas app within the next few weeks, the launch of the first new brand campaign since 2013, and the globalization of bahamas.com by rendering the site into foreign languages.